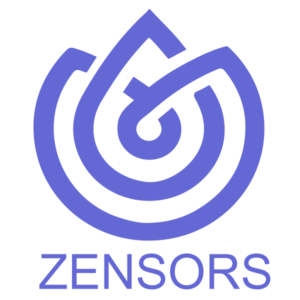 LENSEC FEATURE
LENSEC Announces Zensors & Perspective VMS® Integration
By: Keith Harris
Zensors Captures CCTV Images From Perspective VMS® To Provide Artificial Intelligence
LENSEC is announcing new software integration with Zensors real-time analytics platform and Perspective VMS®. The cooperation between LENSEC and Zensors leads to a unified security platform leveraging existing CCTV cameras. Zensors captures information analyzing CCTV images for actionable business insights in a user-friendly interface.
Perspective VMS® operates using HTML5 browser-based software. Zensors software is also built using the browser as a client interface. Zensors and LENSEC software developers combine software functions to provide snapshots from PVMS that Zensors platform analyzes using artificial intelligence (AI). Analysis of images provides information that people need to know. Here are a few examples:
Traditional Video Analytics
People Counting – How many people are occupying a pre-defined space?
Line Crossing – How fast is a line of people moving?
Car Counting – How many cars are visible?
Occupancy Rate – How much space is occupied?
Unique Analysis
Parking – How many parking spaces are available?
Restaurants – Are there any tables available?
Trash Detection – Is the sidewalk or street clear of debris?
Retail – Are there enough staff to help provide for customer demand in a pre-defined space?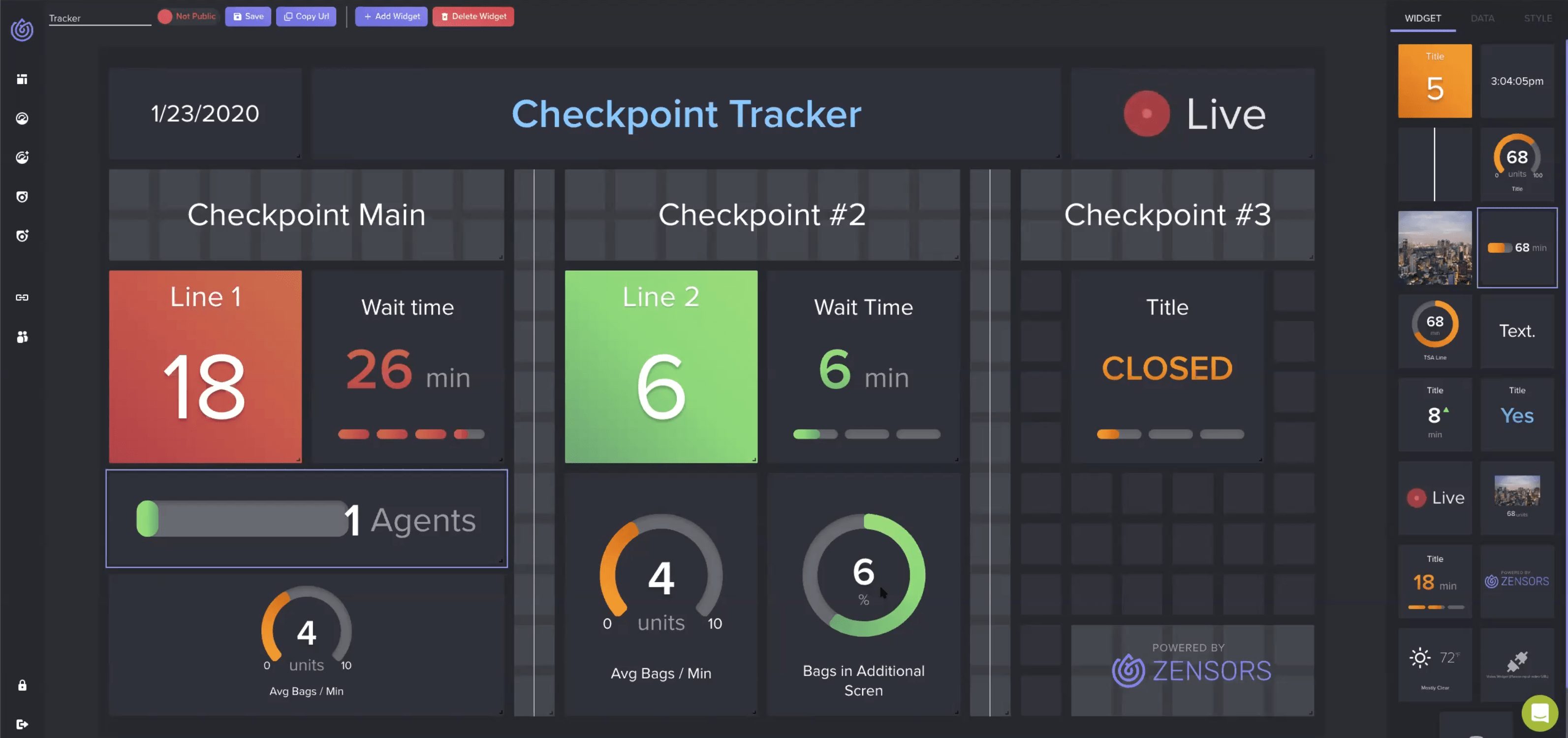 Zensors provides a question-based platform, analyzing business data based on simple questions provided by users. LENSEC software captures and provides still images from IP-based security cameras. Perspective VMS® also includes an action button for Zensors' users to log in and automatically launch the cloud-based AI dashboard.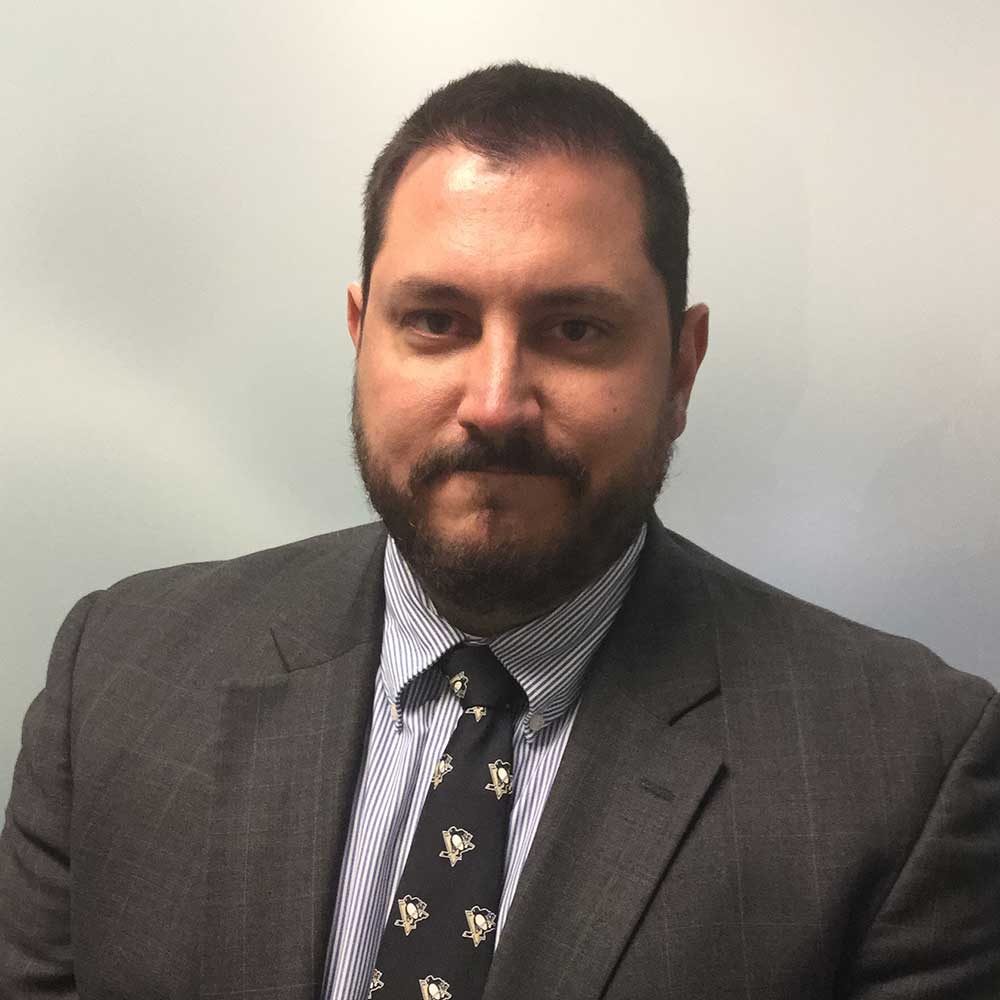 Jeff Kellick, LENSEC Chief Product Officer, says incorporating the browser-based platforms of both products is the key to this successful integration. Kellick says, "Zensors is cloud-based and uses the browser as a client interface. LENSEC has been using a browser-based platform since 1998, so the harmony between the two products is obvious. By working together, two companies are achieving exactly what the customer needs – easy-to-use software that achieves more together than each product can produce apart from one another."
Zensors provides data in a dashboard that is shareable via the web. This includes sharing real-time data with people who need it most. The company was started by researchers at Carnegie Mellon University, the birthplace of Artificial Intelligence. The camera images provide data that Zensors combines with state-of-the-art machine learning. From counting people and cars to more complex scenarios, such as table cleanliness and equipment utilization, Zensors puts AI power into the hands of regular people. The AI is managed from an intuitive web portal that the average person finds easy to operate.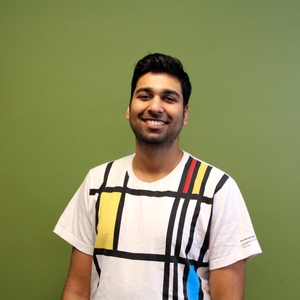 Anuraag Jain, Zensors Founder and Head of Product & Technology, believes the company is applying deep learning in a game-changing way for business operations. Jain says, "We are taking PVMS and the cameras to use what traditionally is a one-off security apparatus for incident response and leveraging these as operational tools to provide real-time actionable data that is meaningful to business managers." 
LENSEC will be exhibiting at ISC West 2020 in Las Vegas, NV in March. Physical security experts will be available to demonstrate the integration between Perspective VMS® and Zensors at our booth in the lobby of the Sands Expo & Convention Center. Look for LENSEC at Booth #L10 and request a demonstration of PVMS and Zensors unified security platform.
LENSEC is a manufacturer for video surveillance software. Since 1998, LENSEC has been trusted as a security partner. Our physical security experts are well-versed in complex security projects, including commercial properties, government sites, educational facilities, critical infrastructure, and much more. LENSEC employees offer the expertise that meets our goal to keep people and property safe. LENSEC distributes Perspective VMS® through a channel of security integrators.
If you are interested in learning more about Perspective VMS®, please visit LENSEC.com/PVMS.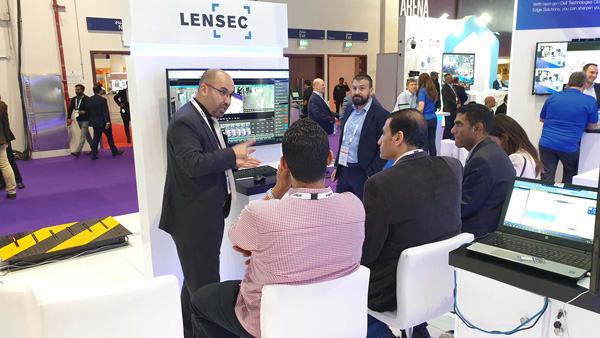 LENSEC FEATURE
Intersec 2020 Is A Big Success For LENSEC
By: Keith Harris
LENSEC has a crucial market internationally, especially in the United States and the Middle East. Exhibiting Perspective VMS® at Intersec is essential for our approach to business. Our team connects with security integration partners, prospects, and end-user businesses at the same time.
Intersec 2020 in Dubai was a valuable show for LENSEC. The team captured valuable leads considered to be high quality and actionable. In our booth, positioned in a high traffic area by the main entrance, we connected with people from approximately 49 countries.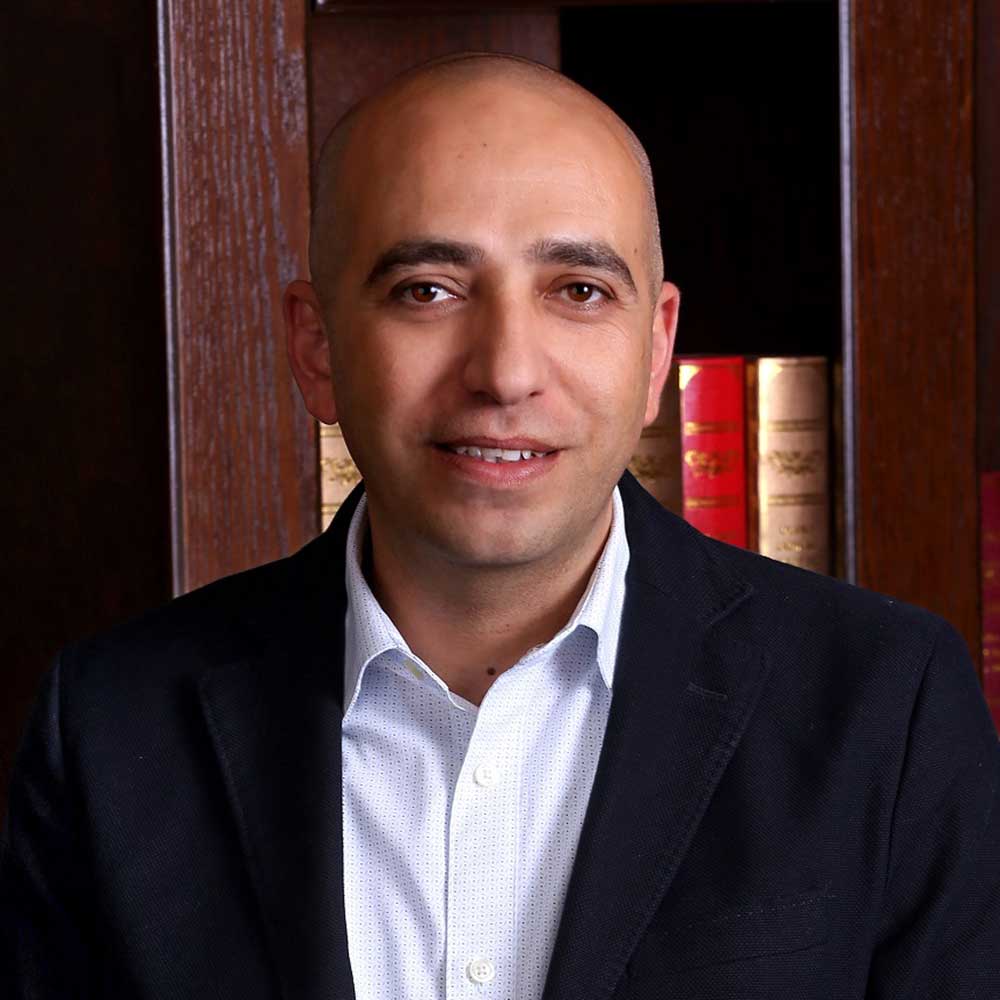 LENSEC Chairman, Basheer Al Ghazawi, says this year's Intersec exhibit was a success for LENSEC. Al Ghazawi says, "There were lots of demonstrations being done. The team was busy talking with people who stayed 15 minutes or more learning about PVMS. Security integrators made up the majority of visitors to the booth. They want to stay on the cutting edge of technology, learning about new features and capabilities available in the security industry."
Intersec is security-focused, which enables LENSEC to connect with security integrators, technology partner vendors, and end-users researching security technology. Getting all the key people in one place is essential for our team to engage with those most interested in the security market.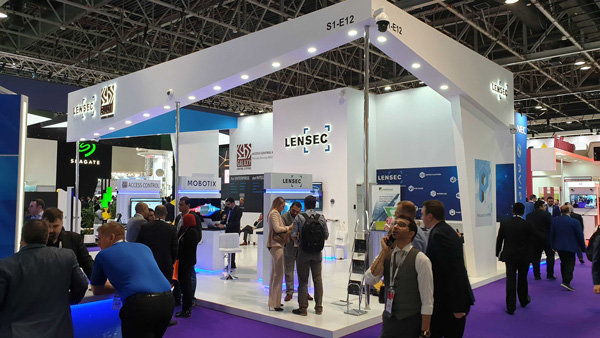 LENSEC presents Perspective VMS® as a unified security platform, leveraging many useful features most required by security integrators and business end-users. LENSEC relies on Intersec to market our security products globally, effectively sharing our messages with our target business markets. We plan to continue exhibiting our products and capabilities at Intersec in future years, leveraging our ability to effectively reach the growing security market.
LENSEC technical engineers set up displays for various security integrations. We successfully displayed Perspective VMS® software integration with Galaxy Control Systems – Access Control, a partner who shared our booth at Intersec. Also, we demonstrated intrusion detection from SICURIT. Face recognition from CyberExtruder, integrated with Perspective VMS®, displayed tagged faces of LENSEC team members. Video analytics by TechnoAware, including hot zones and objects left unattended, were also a big hit with attendees.
The fleet security management feature of Perspective VMS® continues to capture people's attention at Intersec. The ability to monitor a transportation fleet with video and capturing metadata from the vehicles is proving to be a nice feature added to PVMS. Security integrators are expressing interest in the ability to incorporate their fleet into an overall security management tool used to cover their entire enterprise.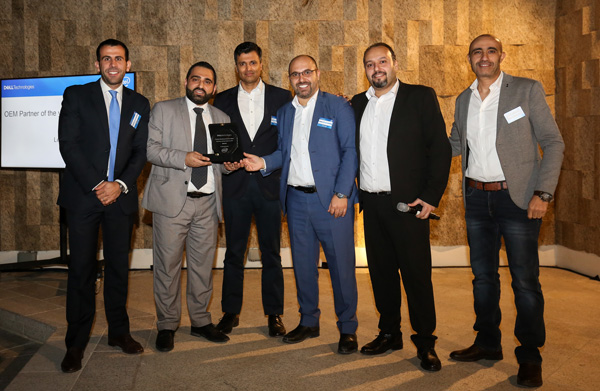 The highlight of the event for our team was the LENSEC team winning the Dell OEM Partner of the Year in Saudi Arabia for 2019. The team was awarded this honor for growing business within the Dell Technologies Partner Program. The LENSEC team has been working hard across the Middle East to bring on new partners and build business with great solutions built on Dell OEM servers. Jack O'Reilly, the Dell Technologies OEM Regional Sales Director – META, has good things to say about partnering with LENSEC for business. Check out his interview for Intersec 2020.

LENSEC SUPPORT
Clearing Up H.265 Video Compression Confusion
Is H.265 Video Compression Right For Your Needs?
By: Bryce Capodieci
Video compression is confusing. When it comes to MJPEG, H.264, or H.265, many security professionals are left wondering if the differences matter.
The Latest & The Greatest
H.265 video encoding is the latest buzzword in compression technology for video, especially in the security industry. Proponents claim an improvement of 25% to 50% better data compression with the improved video quality.
When working with partners, LENSEC physical security experts are often asked, "Does Perspective VMS® support H.265?" LENSEC partners and end-users want to take advantage of the reduced costs in bandwidth and storage that H.265 provides. LENSEC engineers answer this question with, "Yes and No." Before we elaborate on this vague response, let's discuss what supporting H.265 means when determining if this technology is right for you.
Video Compression Background Details
The initial release for the H.265 compression codec was in 2012, about nine years after its predecessor, the H.264 video compression standard. As expected, H.265 delivers on claims of improved data compression. Companies have started incorporating this new codec into video streaming platforms. However, the superior compression codec found in H.265 has not replaced H.264 or even MJPEG compression technology. Both H.264 and MJPEG codecs are still in use and widely supported.
In a technology world where bandwidth is a huge concern and reducing the data storage footprint is a high priority, why hasn't H.265 completely taken over the compression codec field? To better understand this, you must look at the drawbacks.
Drawbacks of H.265 Video Compression
Streaming video in H.265 is far superior when compared to H.264 or MJPEG, but at what cost? For one, streaming in H.265 requires about ten times more CPU power. That can make a big difference in the hardware required to process the streaming video.
MJPEG is far less efficient at video compression than H.264 or H.265; however, it works in any modern web browser. H.265 is not supported in many browsers or streaming platforms due to the high cost and complexity in royalty fees paid by companies like Google, Mozilla, and Apple. Chrome and Firefox do not support H.265 for this reason.
The Easier Choice
H.264 is still a very good compression codec and it is widely supported in most browsers and many streaming platforms. So, streaming video to the modern web browser is better achieved via MJPEG or H.264 video standards. H.265 just isn't available for streaming via the modern web browser due to limitations in the technology supported by the browsers.
Now What Do We Do?
If your company jumped on the hype wagon and invested in a lot of new H.265 supported IP cameras, what do you do if you have browser-based Video Management Software that doesn't support this codec? There is a workaround. Codecs can be converted from one format to another by transcoding. Transcoding works by decompressing video and compressing it again in a different format.
It is best to avoid transcoding, when possible. This process utilizes a lot of CPU power. If your server wasn't designed for this in mind, you may find your system bogging down and becoming sluggish. In most cases, a computer can only transcode a few streaming videos at the same time. If you have an enterprise infrastructure of hundreds of cameras, this would be a big problem! Transcoding also reduces video quality. Codecs compress video by removing unnecessary video data. Once the video data is removed, it cannot be recovered again. Every time you compress video, the codec will remove video data resulting in lower quality.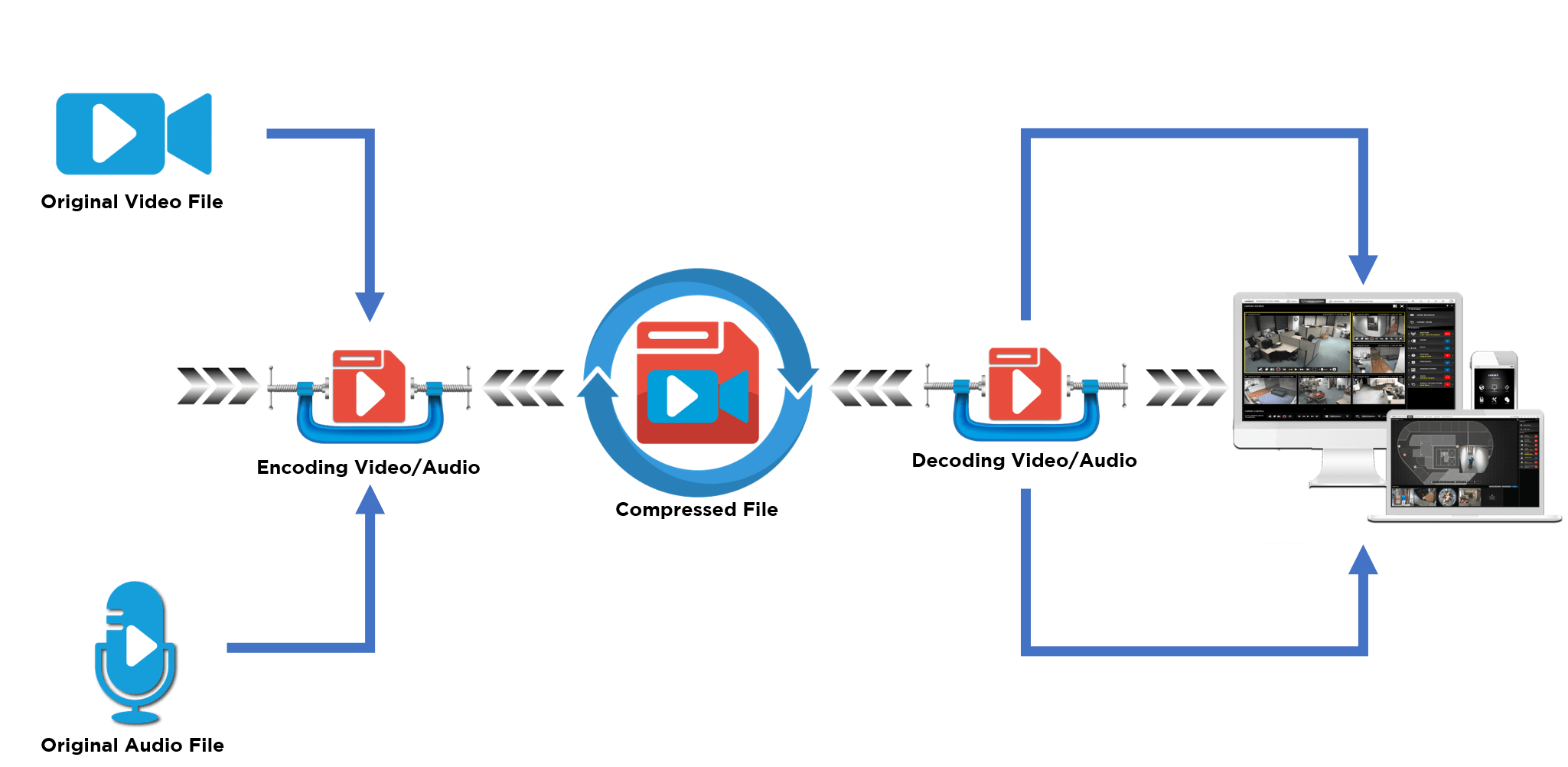 The Future Of Video Compression
Budget-minded companies will often forgo H.265 streaming capabilities due to its high cost. For now, this seems to make the future of H.265 uncertain. Technology changes and advances so fast. Is there a low-cost solution available? For now, H.264 is still a great low-cost solution for great quality video compression. But in 2015, the Alliance for Open Media was launched by several large companies like Google, Cisco, Mozilla, and Microsoft to create an open-source and royalty-free codec called AV1. Based on Google's open 'VP10' codec with technology from Cisco's 'Thor' and Mozilla's 'Daala' codecs, the consortium set to create an alternative for H.265. AV1 has not gained industry-wide support yet and it is still undergoing testing in companies like YouTube.
AV1 is very promising and could be better than H.265 for a few reasons. AV1 will be open-source and royalty-free. AV1 may have better compression technology over H.265. Finally, AV1 will be supported by major corporations and their browsers.
LENSEC Monitors Technology Trends
LENSEC is an agile software development company. Management and employees take pride in being able to quickly adjust to changing market needs. Should H.265 cease to be cost-prohibitive and browser companies begin to adopt this video compression standard, Perspective VMS® could easily support this streaming technology.
Should the AV1 video compression technology gain industry-wide acceptance, LENSEC will review this technology and determine if supporting the technology is in the best interest of our partners and customers. We are committed to adjusting to the needs of our customer base as technology trends change.
LENSEC Support for H.265 Video Codec
So, now we have returned to the question, "Does Perspective VMS® currently support H.265?" Here is the answer: PVMS does support archiving video in H.265, with video playback via transcoded video. LENSEC does not support the streaming of H.265 video due to a lack of support from modern browser technology.
When an IP camera streams video in H.265, Perspective VMS® transcodes the video into H.264 to enable real-time video via the browser. H.265 video for archiving is supported in PVMS; however, the video must be transcoded back to H.264 when it is displayed via the browser. This will allow for a significant reduction in the required hard disk storage space.
If you need to reach customer support, you can email us at [email protected] or call us at +1 (713) 395-0800 Option +1.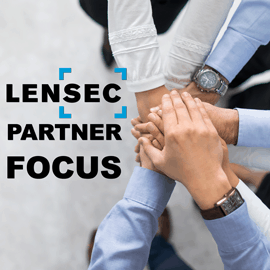 LENSEC PARTNER FOCUS
LENSEC is proud to work with partners like Elliott Data Systems
By: Keith Harris
The team at LENSEC is proud to work with partners like Elliott Data Systems. This group of physical security experts is based in the St. Louis, Missouri area with an additional branch located in Memphis, Tennessee. Elliott has a background in identity solutions and also has a growing physical security business providing access control, visitor management, and video surveillance solutions.
The team at Elliott has been providing excellent value to customers for nearly 50 years while achieving excellent quality and support. Elliott solutions are backed by a team of professionals who establish, service, and maintain systems built for powerful results and long-term success.

LENSEC sales and engineering departments are working alongside the Elliott team to achieve success in partnership. Josh Dunbar says part of the success is based on bidirectional integration between LENSEC's video management software, Perspective VMS®, and BadgePass Access Control software. Dunbar says, "Elliott's sales team can approach customers with a unified security solution. The tight integration between LENSEC and BadgePass products makes sense for the business owner. We can win projects with this approach and differentiate ourselves from the competition."
Elliott is working on a current project covering multiple departments in a city south of St. Louis. The municipality is unifying its security footprint by replacing outdated equipment, getting all agencies on the same technology. This is helpful because now everyone is on the same page. Instead of many disparate DVRs capturing video and various access control systems operating, now all departments use the same security solution. This small town now has hundreds of cameras and access control doors operating using Perspective VMS® and BadgePass as a unified security platform. Now management can pull transactional history from a single source and associate recorded video with door events.
This kind of forward-thinking helps customers focus on bigger issues at hand. The software integration between PVMS and BadgePass is efficient and easy for customers to use. This is a force multiplier for a small town. With cameras monitoring streets and buildings, police officers gain an extra set of eyes covering city streets. With tools available within the security platform, system administrators can keep a better eye on the entire enterprise. Reports provide a log of captured data. The System Health Tool monitors IP devices and servers on the network, providing a snapshot of diagnostic information available within a few clicks.
LENSEC will be attending Elliott Data Systems' Security Technology Summit in April. Our team will be on hand to help train Elliott customers in surveillance techniques and technology. We'll be available to answer questions about Perspective VMS® and our partnership with Elliott.
This kind of power found in integration helps Elliott Data Systems to help customers keep assets and people safe. LENSEC leaders are excited about the future of the partnership with Elliott Data Systems. We wish them the best as we move forward in success together.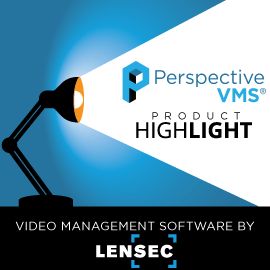 PVMS PRODUCT HIGHLIGHT
PVMS Provides Customization Tools for Users and Administrators
By: Keith Harris
As part of the LENSEC mission to make software that is easy for customers to navigate, our software developers continue to look for a way to allow custom configuration in Perspective VMS. There are many features in the software that make it easy for system administrators and users to adjust settings to meet their individual needs. Here are a few that customers find useful.
Custom View Arrangements
PVMS offers many default view arrangements in the camera viewer. However, administrators can set up custom view arrangements as needed.
Custom Tag Keywords
PVMS offers default tag categories and keywords, but administrators can add custom categories and keywords that are specific for their needs.
Workflows
By their very nature, workflows are customizable. The workflows operate using 'If-This-Then-That' logic. Users can integrate physical and logical inputs into on-screen display actions or other notification alerts through associating objects, triggers, and actions. For example, facial recognition can be used to release a door lock, allowing access for a recognized person. A license plate camera using automatic license plate recognition can read the vehicle plate and open a parking barrier arm to allow vehicle access.
Maps
The Maps module offers a lot of customization. Administrators can upload map files that are based on jpeg or png format. Placement of sites and cameras can be arranged based on the administrator's choice. The custom map editor is built into the software, enabling the administrator or installation technician to configure the map that displays for all users.
Adding Cameras
PVMS offers a lot of pre-loaded cameras configured for use in the software. However, administrators can upload cameras that are not in the list. Adding cameras with ONVIF Profile-S is easily done in camera administration.
User Preferences
PVMS allows users to customize their experience with the interface. Users can set their default view upon login, giving them a choice to see the camera viewer, maps, or the welcome screen. Users can also turn tool tips on or off in their profile settings.
Dynamic Interface
Users can adjust their interface layout to meet their individual need. The side panel for actions and events may be collapsed, expanded, or set to icon view. The camera dock or map window can be scaled for custom view. Even the archives player allows users to adjust view window sizes to their specific needs. Additionally, reports can be customized and filtered based upon user needs. LENSEC software developers have really worked to make the user interface customizable and easy to operate.
Configuring Storage
Administrators can easily manage storage with archive balancing. Whether your security server included onboard hard drives, Network-attached storage (NAS), cloud-based, or other storage available, PVMS makes it easy to add more storage and balance the archives across multiple locations.
Hardware Agnostic
When you are deploying PVMS in a security project, LENSEC doesn't require specific or even new cameras or servers. You can customize your project and incorporate existing hardware, assuming it meets the minimum specifications required. Using legacy equipment is a more suitable option for some customers. However, we are open to working with all hardware manufacturers that are willing to integrate with Perspective VMS.
Additional Custom Settings
Welcome Messages
Notifications
Password Policy
Action Soft Buttons
To learn more about Perspective VMS, check out our product page on the LENSEC website or schedule a demo with our sales team.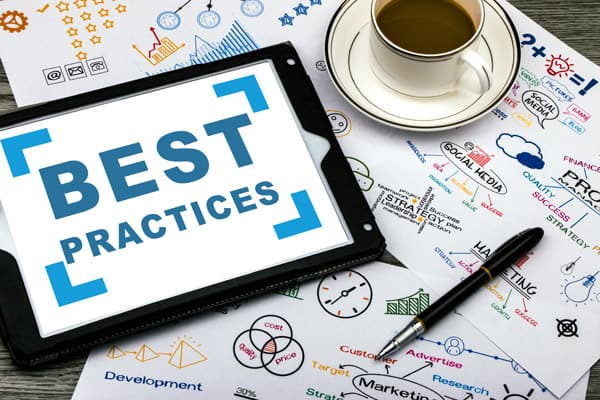 PVMS PRODUCT USE-CASE
Local, State, & Federal Governments Can Establish Area-Wide Surveillance Coverage
By: Keith Harris
State, local, and federal government agencies can benefit from the capabilities offered in Perspective VMS®. The LENSEC team of physical security engineers have experience to help government agencies with a wide variety of solutions. A noteworthy example is that of a municipality in Texas. This suburban city employs PVMS to manage their video surveillance for multiple city departments.
Municipal Use Case Examples
The police department has an interview room using PVMS as the recording interface, using it to capture video and audio for suspect interrogations.
The parks department uses surveillance cameras to capture video of park activity and vandalism monitoring.
The municipal courts have cameras and access control integrated with Perspective VMS® to monitor public activity onsite.
The community center monitors a city pool location for public activity.
Additional sites covered include: wastewater treatment plant, maintenance facility, senior adult center, public library
Multiple municipal departments are users of the single security interface. PVMS has been deployed citywide and users of the system are able to monitor areas within their area of concern. With a unified security platform across the entire city, users have a better chance of understanding the software interface and accessing surveillance evidence as needed.
The municipality also integrates access control with Perspective VMS®. This allows administrators to associate access control readers with nearby cameras, enhancing surveillance footage by connecting it to access control events. Upon card reader access, video of activity at the card reader can be bookmarked for verification of activity. By building out a citywide security footprint, this municipality has strengthened their ability to secure their assets and make people safe.
Contact the LENSEC team of physical security experts to learn more about how PVMS can help local, state, and federal agencies with establishing a unified security footprint.

ISC West International Security Conference and Exhibition 2020
Las Vegas, NV
DATE: March 18-20, 2020
BOOTH: #L10
LOCATION: Sands Expo Convention Center
Las Vegas, NV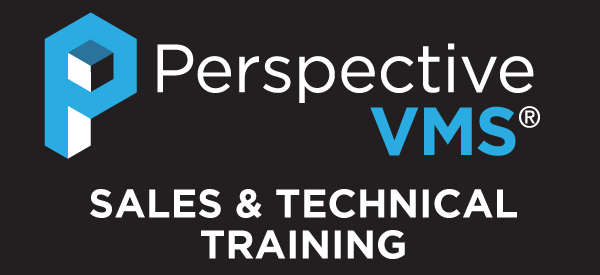 LENSEC PVMS Technical & Sales Training Dates
PVMS SALES TRAINING
DATE: March 17, 2020
LOCATION: Venetian Hotel Suite
Las Vegas, NV
PVMS TECHNICAL CERTIFICATION TRAINING
DATE: April 23-24, 2020
LOCATION: LENSEC Headquarters
Houston, TX
ADDITIONAL TRAINING DATES
IN HOUSTON & REGIONAL LOCATIONS
THROUGHOUT THE YEAR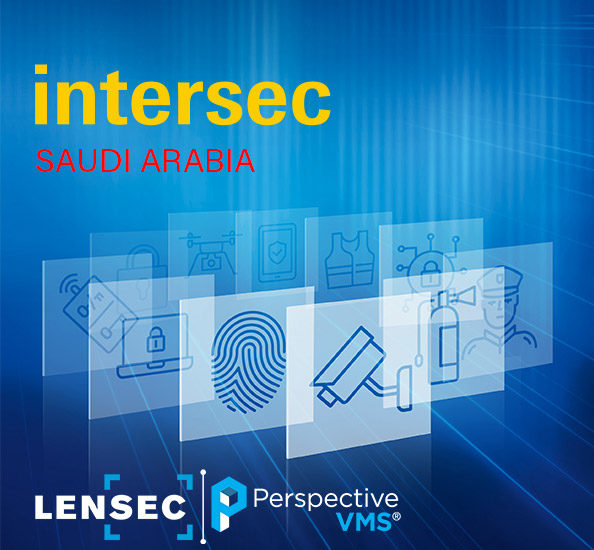 Intersec Saudi Arabia 2020
Booth: #3-A41
Riyadh, KSA
DATE: POSTPONED September 1-3, 2020
BOOTH:#3-A41
LOCATION:Riyadh International Convention and Exhibition Center
Riyadh, KSA
IMPORTANT NOTE
** Intersec Saudi Arabia 2020 has been POSTPONED until September 1-3, 2020. **