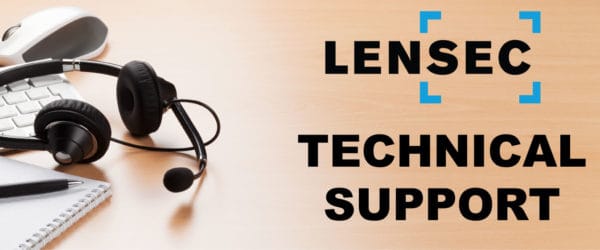 LENSEC World-Class Customer Support
LENSEC is committed to providing the best support experience possible for our customers –  security integration partners selling and installing Perspective VMS®. This begins with our promise to provide an intuitive and logical user experience within our PVMS software applications. It continues with certification procedures and best practice implementations for our technicians and physical security specialist teams. And, it is realized with our industry-best support tools for end-users. It's our aim to meet our number one goal for our organization, which is:
Providing our customers with the highest level of quality and support to meet their individual needs.
In support of our expanding customer community, LENSEC's customer service team has adopted a policy of continuous self-evaluation and improvement. We are constantly integrating the feedback from our customers into the service process. With the development of active monitoring, our customer service team has the ability to continually perform real-time diagnostics on customer physical security systems. Receiving notification within moments of a trouble event, we utilize advanced diagnostic techniques to ensure quick resolution on all technical issues.
Based on the proven foundation of our customer response management tools, LENSEC's policies enable our staff to access, track, escalate and resolve issues from anywhere in the world. Automated escalation rules have been defined to route any high priority issues directly to higher tier support staff.
You can rely on LENSEC to deliver not only leading software solutions but also peace of mind with proactive monitoring, technical support, and system maintenance to ensure the highest reliability and success of LENSEC systems.
---
LENSEC's Service & Support Center continually monitors and updates client surveillance systems to ensure the following:
All cameras and servers checked regularly
Issues serviced remotely and solved promptly
Automatic PVMS software updates
Yearly server replacement program
Reporting availability
On-site service and support
Standard and extended warranties available
For technical support, please email or call us. You may also use the contact form at the bottom of this page.
Phone: (713) 395-0800 Option 1
Email: [email protected]
LENSEC Support Team Availability
Monday – Friday // 6am to 6pm CT
24/7 On-call Technical Support is available for emergencies.
LENSEC Technical Support Team observes the following holiday schedule and will be closed on these days for all US-based employees.
 New Year's Day (January 1st)
Good Friday (Friday Before Easter Sunday)
Memorial Day (Last Monday in May)
Independence Day (July 4th)
Labor Day (1st Monday in September)
Thanksgiving Day (4th Thursday in November)
Day After Thanksgiving (4th Friday in November)
Christmas Eve (December 24th)
Christmas Day (December 25th)