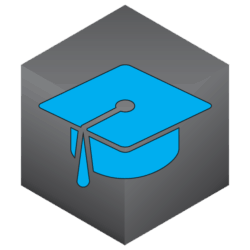 Campuses from across the country use LENSEC for managing and monitoring thousands of cameras. As the awareness and demand for campus safety increases, so does the need for a unified security platform, such as Perspective VMS®.
Integrated security systems allow for video surveillance, video analytics, and physical access control or intrusion detection events to be analyzed for fast retrieval. Integrated systems also alert staff when an event or action escalates, providing accurate video verification which facilitates fast response during a crisis.
University campuses often serve as community hubs for activities by sharing athletic fields, meeting areas, or auditoriums with the general public. Active security is critical and helps prevent and raise visibility of suspicious activity. Security awareness will also limit liability from accidents or vandalism.
With Perspective VMS®, security devices can enhance school safety in significant ways. An advanced feature allows administrators to associate neighboring cameras. These can then be used to track activity during or after a developing event. Sharing live camera views or recorded video with other users has never been easier. PVMS provides remote viewing capability along with secure access. These are just some of the everyday features from Perspective VMS® that will make your security and safety staff more efficient.
Along with security concerns, agencies need to ensure that the right solution is found through a competitive bid process. LENSEC has addressed these concerns for agencies by listing solutions on several cooperative schedules including GSA, Texas DIR and TCPN.
Higher Education Solutions - Use Case Scenarios
Campus-Wide Security for Universities and Colleges
Monitoring security for students and staff at university and college campuses is handled easily by Perspective VMS®. Higher education campuses have a unique challenge because they are spread across a wide area. They might even have regional campuses and remotely diverse locations that need to monitored continuously. LENSEC physical security specialists know the needs and step up to help, offering solutions for connecting remote locations under a unified security footprint.
System Architecture
Our team of solution engineers can recommend system architecture  to optimize your network for surveillance. Perspective VMS® is enterprise-level software designed for multi-site deployment in a distributed architecture or centrally-managed network. The advantage of unifying campuses under one security platform is realized in ease-of-use. PVMS is designed with the end user in mind. We present an easy-to-navigate user interface that is intuitive and powerful. When users can use an easy software to manage one location or many, they are more likely to use it with confidence.
Solar Power Solutions
A community college campus using Perspective VMS® has cameras in their parking lots. They use a solar solution designed by LENSEC engineers to power the cameras. Since the cameras are on light poles in the parking lot, they don't receive continuous power. Our engineer recommended attaching a solar panel and batteries to provide power as needed. The cameras are remotely connected via Wi-Fi access points. Live and recorded video is delivered to end-users using PVMS across the campus locations.
There are many proven solutions our team of professionals can recommend to security stakeholders. contact us with questions or to set up a PVMS demonstration.

Higher Education Case Studies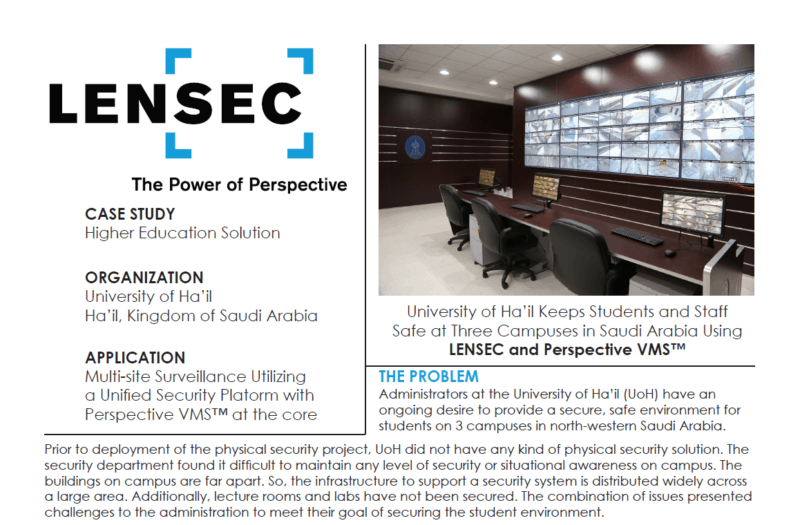 University of Ha'il Keeps Students and Staff Safe at Three Campuses in Saudi Arabia Using LENSEC and Perspective VMS® – Case Study
THE PROBLEM
Administrators at the University of Ha'il (UoH) have an ongoing desire to provide a secure, safe environment for students on 3 campuses in north-western Saudi Arabia. Prior to deployment of the physical security project, UoH did not have any kind of physical security solution. The security department found it difficult to maintain any level of security or situational awareness on campus.
The campuses need to use security cameras and access control devices to keep an eye on thousands of university students and staff. The security footprint at UoH covers three campus locations. An enterprise surveillance solution across multi-site campuses is necessary to properly secure the locations and comply with government security standards. Updating the security devices and improving coverage across the campuses is a priority for the safety and security administration.
THE SOLUTION
Administrators at the University of Ha'il use Perspective VMS® by LENSEC to manage and monitor over 900 indoor and outdoor IP cameras. In addition, 150 biometric access control readers are deployed to monitor entrances and exits of several highly-equipped computer and science labs. The security devices are distributed between the education facilities and multi-story buildings. The data center has centralized storage servers capable of providing three months of surveillance data storage retention.
LENSEC's Perspective VMS® is the unified management software for all security systems. This provides a key advantage to enable the university security team to monitor live cameras and view archive recordings in a centralized location. Using Perspective VMS®, personnel monitor all activities at the campus locations. They can view and generate reports on security events. They also monitor transactions from the integrated ANPR cameras and access control system.
THE CONCLUSION
Now, with cameras, door control, and gate barriers, UoH officials are experiencing a huge benefit in maintaining student and staff safety. The situational awareness has improved and security personnel can quickly monitor student activity and respond to incidents.
With all security systems being monitored through Perspective VMS®, the security department and administration now have the real-time insight into student and staff movement throughout the campuses. This enables security personnel to keep track of suspicious activity and begin a forensic analysis of incidents with the best information readily accessible.
The partnership between LENSEC, Al-Wefaq Arabia for IT, and the University of Ha'il in KSA is providing success in meeting the security requirements set forth by the university. Campuses are secured by a unified security platform built on Perspective VMS®. This partnership, with Perspective VMS® at the system's core, is keeping students and staff safe.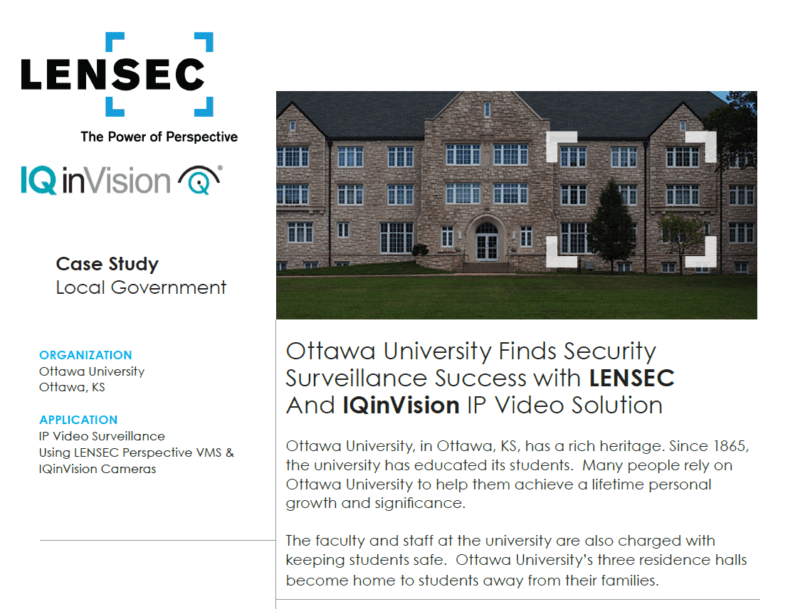 Ottawa University Finds Security Surveillance Success with LENSEC And IQinVision IP Video Solution
Administrators at Ottawa University, in Ottawa, KS, are charged with keeping students safe. Ottawa University's three residence halls become home to students away from their families.
Somewhat ahead of its time, Ottawa University had installed analog video cameras in its residence halls about 10 years ago. The number of cameras and available technology were limited.
The university had a long-standing relationship with the security integrator, Midwest Card and ID Solutions. The company introduced administrators to LENSEC's Perspective VMS® and IP Megapixel cameras. The team was sold on the IP-based system with crisp image resolution. LENSEC could offer a cost-effective system for indoor and outdoor surveillance.
Phase one of Ottawa's plans calls for IQeye Alliance dome cameras to be installed in the new university's new Student Union. All cameras will be managed by PVMS and monitored by security personnel. Phase two will see additional IQeye cameras installed at the Student Center library. In all, over 50 cameras and servers running Perspective VMS® will be deployed in this project.
Working together, Midwest Card, LENSEC, IQinVision and Ottawa University are drawing up expansion plans to install video surveillance throughout the entire campus. When completed, the system will have hundreds of cameras inside buildings and monitoring grounds.