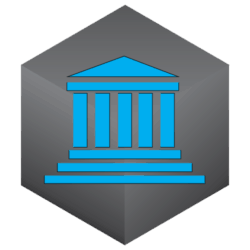 LENSEC understands the importance of protecting our nation's communities and public places.  We have expertise providing a range of technical solutions to help municipalities and government agencies ensure the highest levels of security.
LENSEC tailors IP video surveillance solutions. These are purpose-built on the Perspective VMS® unified security platform. PVMS meets the specific needs of government agencies and municipalities. These solutions often require the right balance of security infrastructure and components.
LENSEC specializes in tying security components together into an enterprise security footprint. Perspective VMS® provides integrated enterprise security that is intuitive and scalable. Administrators and end-users like the diagnostic alerts, user and component reporting, and open architecture platform for integrating future security hardware into PVMS.
LENSEC also helps agencies ensure that they find the right solution through a competitive bid process. The company has listed solutions on several cooperative schedules including GSA, Texas DIR, and TCPN.
The company's installation of IP video surveillance is also in line with recent technology advancements. We have experience with complex enterprise security deployment projects. LENSEC can help technically navigate multi-site network access scenarios. Even remote areas, such as parks or transportation hubs, are accessible using wireless data transmission. Moreover, as a city-wide installation stretches to encompass several buildings or sites throughout a region, LENSEC can provide multi-site access allowing administration from anywhere that the network has access.
Government Solutions - Use Case Scenarios
Local, State, and Federal Governments can Establish Area-Wide Surveillance Coverage
State and local government, and even federal government, can benefit from the capabilities offered in Perspective VMS®. The LENSEC team of physical security engineers have experience to help government agencies with a wide variety of solutions. A noteworthy example is that of a municipality in Texas. This suburban city employees PVMS to manage their video surveillance for multiple city departments.
Municipal Use Case Examples
The police department has an interview room using PVMS as the recording interface, using it to capture video and audio for suspect interrogations.
The parks department uses surveillance cameras to capture video of park activity and vandalism monitoring.
The municipal courts have cameras and access control integrated with Perspective VMS®, to monitor public activity onsite.
The community center monitors a city pool location for public activity.
Additional sites covered: wastewater treatment plant, maintenance facility, senior adult center, public library
Multiple municipal departments are users of the single security interface. PVMS has been deployed citywide and users of the system are able to monitor areas within their area of concern. With a unified security platform across the entire city, users have a better chance of understanding the software interface and access surveillance evidence as needed.
The municipality also integrates access control with Perspective VMS®. This allows administrators to associate access control readers with nearby cameras, enhancing surveillance footage by connecting it to access control events. Upon card reader access, video of activity at the card reader can be bookmarked for verification of activity. By building out a citywide security footprint, this municipality has strengthened their ability to secure their assets and make people safe.
Contact the LENSEC team of physical security experts to learn more about how PVMS can help local, state, and federal agencies with establishing a unified security footprint.

Government Agencies - Case Studies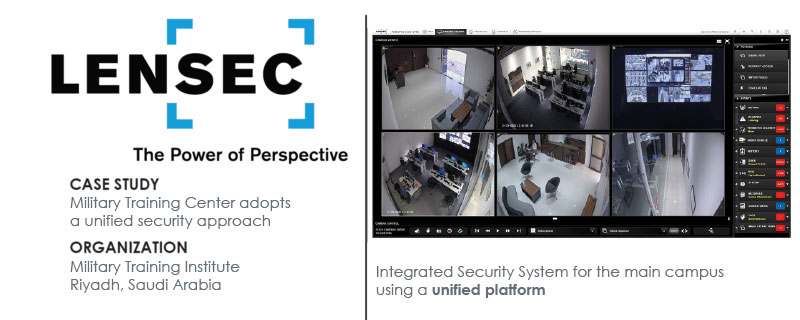 Military Training Center adopts a unified security approach
SCENARIO: Integrated Security System for the main campus using a unified platform
The institute for military and police training in Riyadh is the designated government education facility for educating soldiers and police officers in the Kingdom of Saudi Arabia. The project is at an educational college designated for training all government personnel in military and security positions. The educational facility is a strategic government location, including a research center, workhops, shooting range, special program facilities, housing, and more.
THE PROBLEMS: Wrong camera numbers, blind spots, outdated and limited infrastructure Large infrastructure
The administration needed to take counter measures, implementing and integrated security system due to the strategic nature of the facility and expected external security risk. It is a priority to protect people and certain assets from possible threats
SOLUTIONS: Overview
The security project encompasses many system and components from different security manufactures. The physical security experts from LENSEC work with representatives from other companies to integrate security software and tools to comprise the complete security footprint.
CONCLUSION: PVMS is the Best Solution for a fully integrated solution, managing events and collecting metadata
For the campus project, the security integration team installed LENSEC Griffin Series Network Video Appliances. There network servers are optimized for security and surveillance, providing a dependable foundation for the security footprint.