Perspective VMS® Software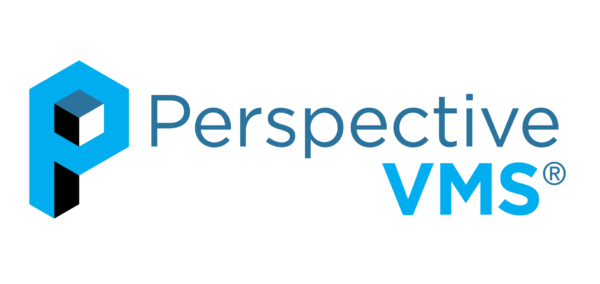 Perspective VMS® is a browser-based software that streams and captures IP security camera video and manages various IP security devices. PVMS includes features such as fleet security management, access control, video analytics, intrusion detection and prevention, gates and barriers, RFID asset management, IoT sensors. PVMS provides advanced features for tracking behavior, movement, and events with comprehensive monitoring for the whole facility.
Current Software Version: Perspective VMS® v5.2.2.1
Download the latest version of Perspective VMS®. If you would like more resources on PVMS, please proceed to our PVMS downloads page. Various product documents and tools are available on this page for your reference.
PVMS Documents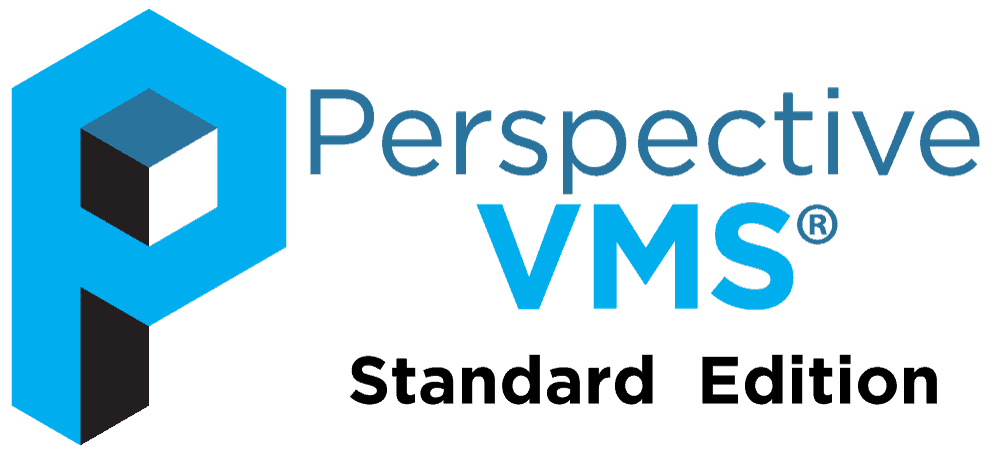 Perspective VMS® Standard Edition adds many valuable advanced features. PVMS Standard is for projects with a medium scope. This means mid-tier projects which incorporate a few sites and need centralized management at a budget-friendly price point are an ideal fit. Access Control integration is included for 3rd party software.
PVMS FEATURES
An Unlimited Number of Camera Licenses are available in the Perspective VMS® Standard product edition. This is an upgrade from 100 camera licenses in recent PVMS versions.
Video tagging enables bookmarking of video, cameras, or events. Of course, tags are searchable within the global search tool.
The action panel incorporates event and alarm notification into PVMS Standard Edition. With this, users have heads up to alerts.
Even better, this collaboration tool allows you to share a camera view, recorded video, or tags with other users. That helps to maximize user efficiency.
Neighboring cameras associates every camera with nearby camera locations, grouping them for quick navigation. This allows users to monitor activity through a site either in live video mode or when reviewing recorded video.
Multi-site locations may connect cameras to central storage for true remote capabilities. Many sites can now be accessed through the network no matter how far away they may be.
Access Control Integration for a limited number of doors is available using a 3rd party software.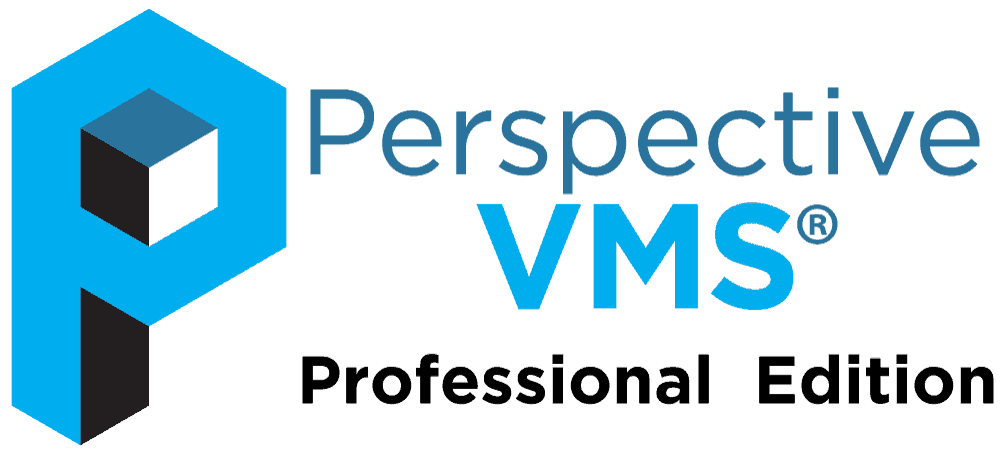 Perspective VMS® Professional Edition adds many valuable advanced features. PVMS Professional is for projects with a large scope but only limited integration for access control and a la carte video analytics. This software version is ideal for a distributed network or large enterprise needing advanced features, such as Active Directory integration. 3rd party software for access control is available for integration into projects using add-on licensing for a limited number of doors. PVMS Video Analytics is available for individual features as well.
PVMS FEATURES
Unlimited camera licenses are available in the Perspective VMS® Professional product edition. No software licensing limits opens up options for larger projects.
All Features from PVMS Standard Edition, such as system analysis reports, share view, and external email alerts, are included.
Advanced features, such as archive locking and system lockdown, are included in PVMS Professional Edition .
Active Directory integration allows organizations using AD to import user information into Perspective VMS® Professional.
Neighboring cameras associates every camera with nearby camera locations, grouping them for quick navigation. This allows users to monitor activity through a site either in live video mode or when reviewing recorded video.
Access Control integration via 3rd party software allows users to add-on a smaller number of doors with a la carte pricing.
PVMS Video Analytics are available for a la carte licensing adding a few features to cameras as needed. There are multiple features to choose from including object left behind, directional line-crossing, face detection, intrusion detection, and more.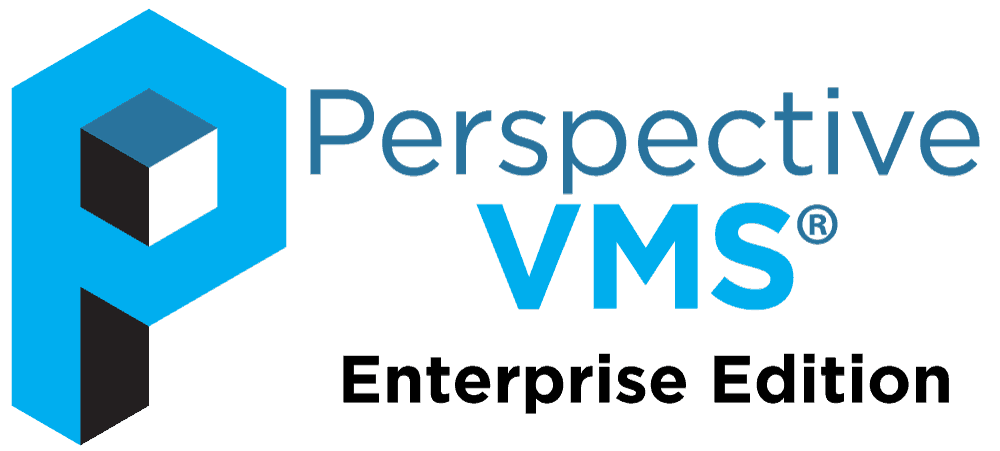 Perspective VMS® Enterprise Edition is designed as an enterprise level tool with features based directly on customer input. Meaning, we actually listen when customers talk. PVMS Enterprise is ideal for a distributed network requiring advanced features. This goes for add-on tools like Active Directory, unlimited access control doors, add-on licensing for video analytics, and more.
PVMS FEATURES
Unlimited camera licenses mean no software limits in Perspective VMS® Enterprise product edition. That's right! We said unlimited! Only limits in hardware and your network infrastructure may prevent from using any number of cameras required for a large project scope.
3rd Party Access Control integration including unlimited doors provides the ultimate flexibility for large scale projects needing access control management for a large number of doors.
Archive locking allows administrators to mark segments of video and exempt it from archive deletion. Better put, administrators can lock video down until it can be extracted for investigative purposes. This ensures the file will remain in the archives until the lock is released by the administrator.
Active Directory integration allows administrators to import their existing AD users and groups, then configuring permissions within PVMS. Administrators of large enterprises love this feature because it integrates a tool they already use.
Workflow management logically associates objects, triggers, and actions to physical and logical inputs. That means one or multiple triggers may initiate one or multiple actions.
PVMS Video Analytics integration incorporates advanced analytics capabilities in PVMS Enterprise Edition. You can choose among different features and add to camera positions by utilizing our a la carte device analytics.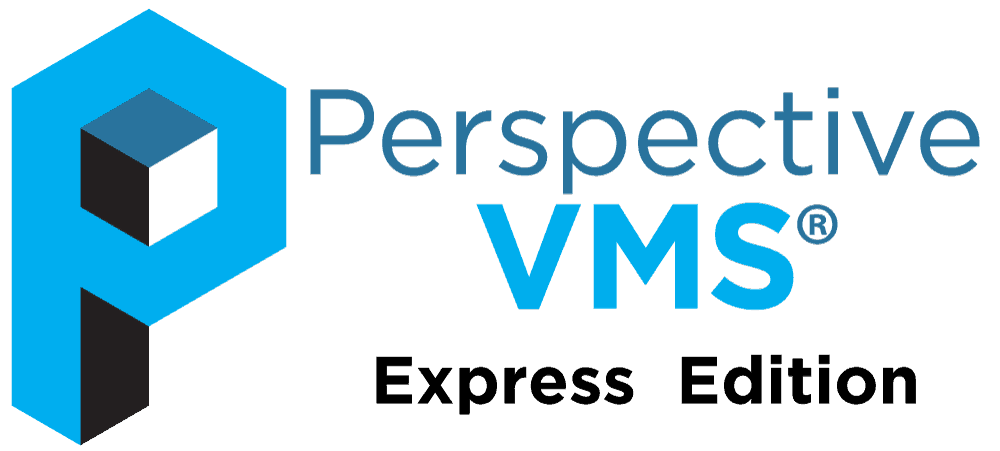 Perspective VMS® Express is a scaled down version of the enterprise edition. Because of this, PVMS Express product edition is designed for small projects with a limited scope in a single-site deployment.
PVMS FEATURES
The PVMS Express product edition allows up to 24 camera licenses.
The browser-based client application is built exclusively as an HTML5 rich application. This makes it easy to stream live or recorded video to any workstation via the web browser.
PVMS mobile apps are available for Android and iOS devices providing easy access even when you're on the move.
The camera dock allows drag & drop camera viewing from the map module. That makes the custom map interactive with dynamic navigation.
Map camera icons will pop-up live video from the associated camera. This provides a heads up view in the maps module.
Users can access the global search to find cameras names, map names, user-defined details, or any other metadata stored in Perspective VMS®.
Users can create a user-defined scan of camera views called Multi-view sequencing. This makes it easy for end-users to schedule cameras to rotate for an automated, rotational display.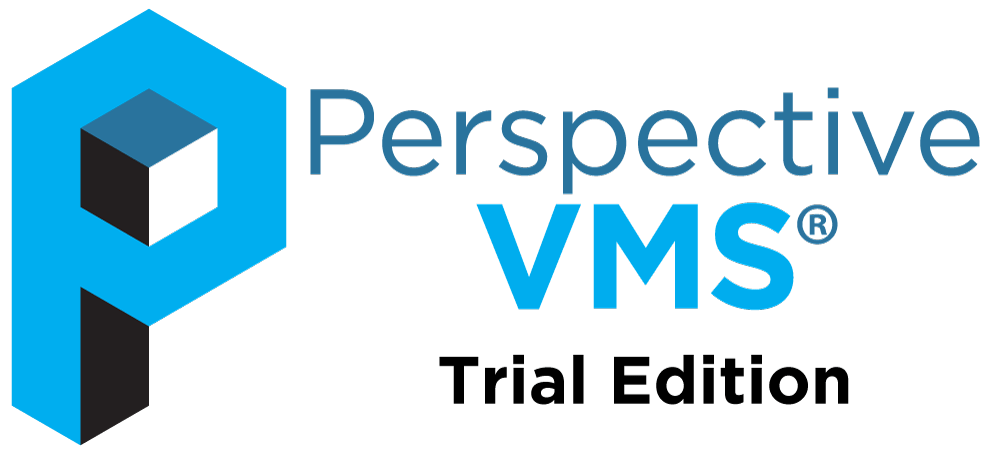 Perspective VMS® Trial Edition is a great way to text LENSEC's software with your existing cameras. We'll give you 30-days to try out the software in your security environment. Test it out and learn about the advantages available in PVMS.
PVMS FEATURES
10 Camera Licenses are available in the Perspective VMS® Trial product edition.
Global Search allows users to search for metadata, cameras, maps, or any information logged in the system database. Of course, tags are also searchable within PVMS.
PVMS for any version operates in any modern HTML5 browser.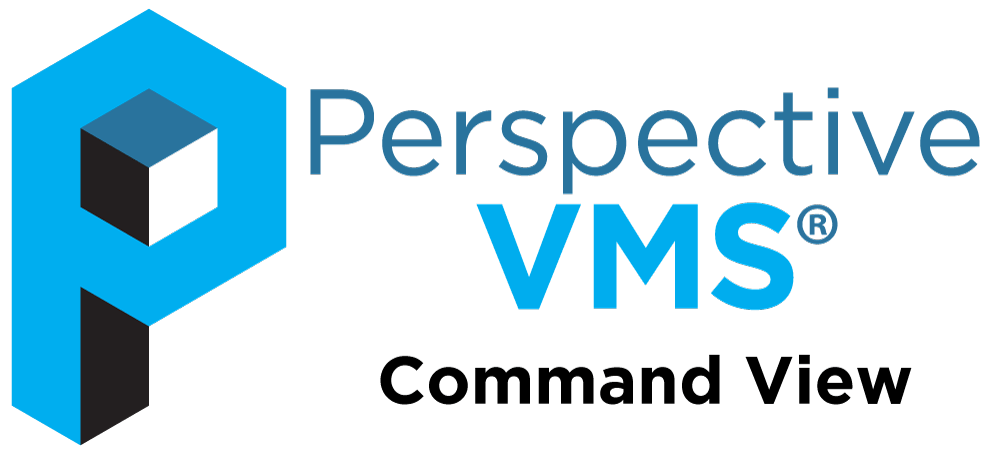 Perspective VMS® Command View Edition gives users a hand with camera navigation. It's designed to operate with DVR's or NVR's already in place. This streaming view version of the software can help security teams with older equipment to display their cameras and add a few minor features to improve their monitoring capabilities.
PVMS FEATURES
Unlimited Camera Licenses may be used with PVMS Command View.
Global Search allows users to search for metadata, cameras, maps, or any information logged in the system database. Of course, tags are also searchable within PVMS.
PVMS for any version operates in any modern HTML5 browser.
Perspective VMS® Stands Out From The Competition
LENSEC designs software for complex video surveillance systems. Perspective VMS® is  appropriate for small, single-site deployments, mid-tier security projects, or multi-site locations needing an enterprise software.
Real-Time Situational Awareness: PVMS includes security tools such as dynamic map navigation and global search.
Enterprise Video Surveillance Built With HTML5: PVMS is browser-based, leveraging HTML5 in a feature-rich application designed with a highly functional and easy-to-use graphical interface that is unique in the physical security industry.
The Unified Security Platform: Integrations with 3rd-party software incorporates notification and control of 3rd-party physical security tools, such as access control, asset management, building systems, alarm panels, video analytics, and more.
Pioneering Physical Security Innovations: LENSEC continues to lead the way so security integrators and end-users can count on PVMS to easily deploy and manage their security video via a thin-client application.
Remote Management & End-User Capabilities: Users and administrators can navigate all of their day-to-day operations and advanced security management from any PC or smart device with access to their network.
Cybersecurity Designed For Enterprise Physical Security: Cybersecurity standards developed by LENSEC are implemented in PVMS for a secure network architecture.
Fully Functional In The Web Browser: PVMS displays CCTV security video streaming via any modern web-browser, while allowing full functionality of all system features, accessible from a web browser without relying on thick-client software or browser plug-ins.
PVMS Software Modules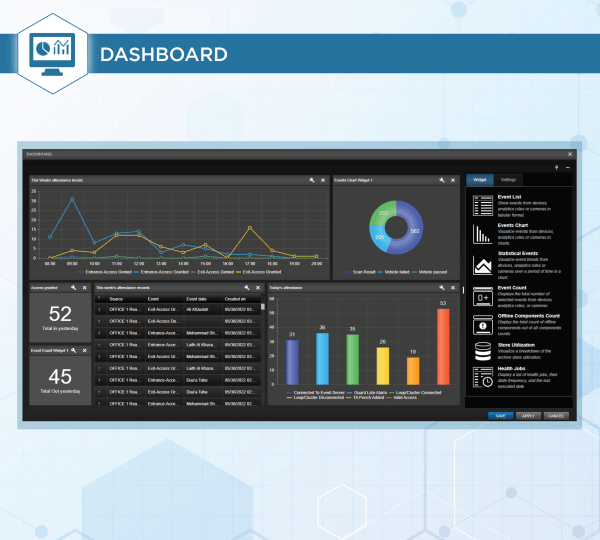 View security events and system health in custom-made visual boards that fits your operational needs. 
Create multiple dashboards for different users based on their needs.

 

Select from a list of predefined widgets.

Adjust the size and location of widgets based on the data to be displayed.

 

Get live updates of new events and changes.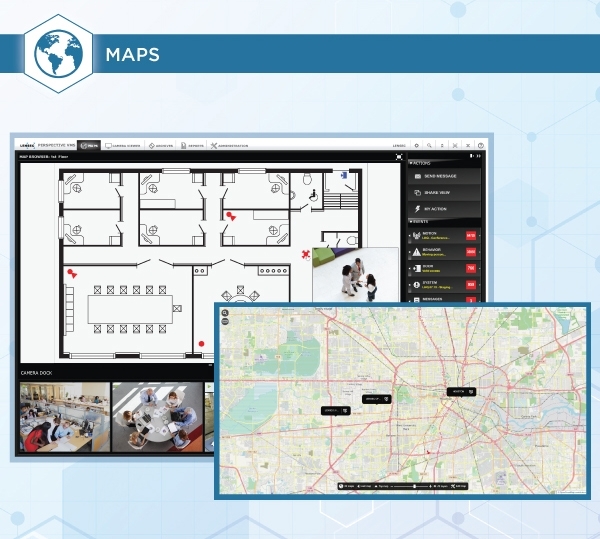 Quickly identify camera locations, obtain real-time situational awareness, view live-streaming video.
Hover over camera icons to display live video in a pop-up window.
Dock the cameras for a continuous view of live video.
Navigate multiple floors or site locations using nested maps.
Locate cameras and other system assets using live GIS-maps.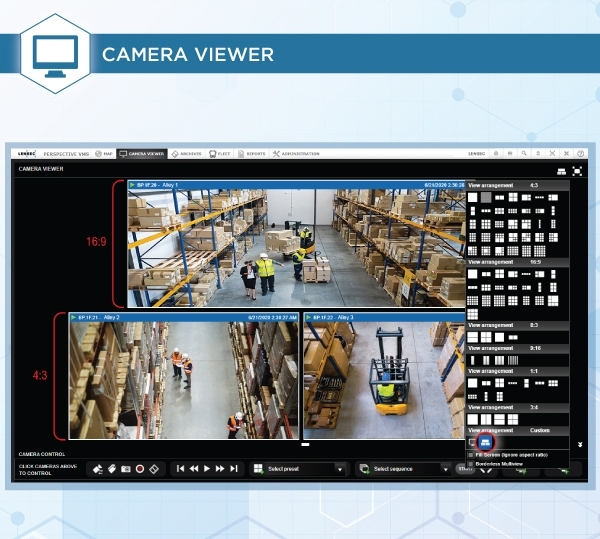 Select from a wide range of viewing layouts. Your custom preset views and sequences can be saved and recalled in the graphical interface.
Call-up live video from multiple sites simultaneously.
Rewind and playback video without leaving the camera viewer.
Start recording in real-time using the Extract tool.
Track moving targets through a facility using the Neighboring Cameras feature.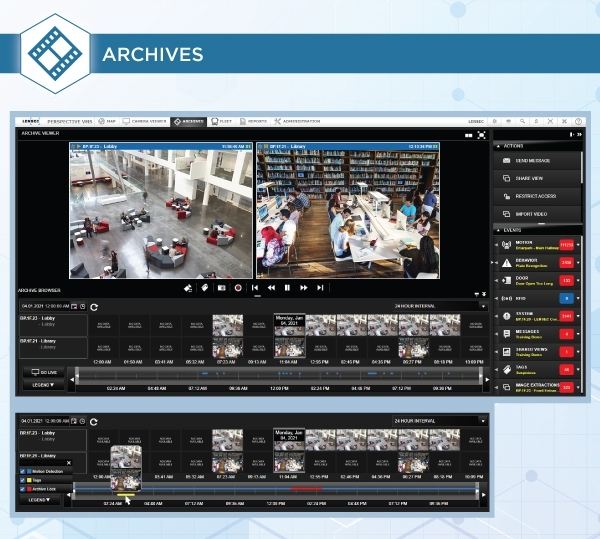 Begin forensic analysis by accessing stores of pre-recorded video.
Search motion video activity detected by security cameras using the Fast-Find feature.
Search previously recorded video using the interactive timeline and image thumbnails.
Create recorded video extractions simultaneously.
Download extracted video into a standard media file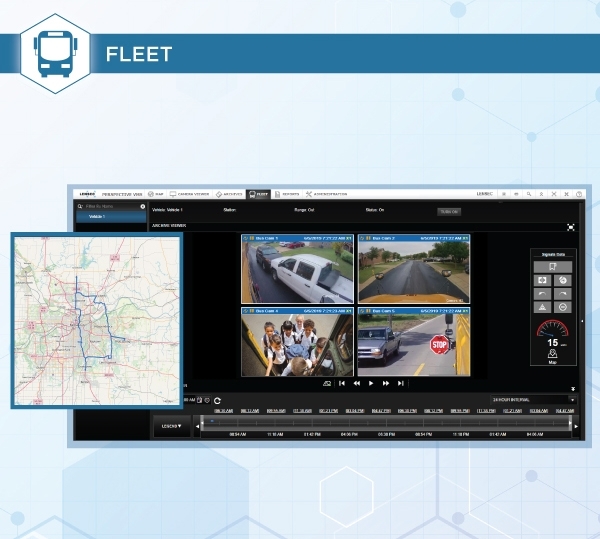 Capture vehicle video and metadata while managing the security of your fleet, cargo, drivers, and passengers.
Track fleet vehicle positions using GIS-mapping to find assets.
Access vehicle I/O metadata, such as brakes, blinkers, speed, and more.
Connect to a vehicle from headquarters using built-in Wi-Fi or cellular communications.
Protect on-board video and metadata using rugged mobile servers.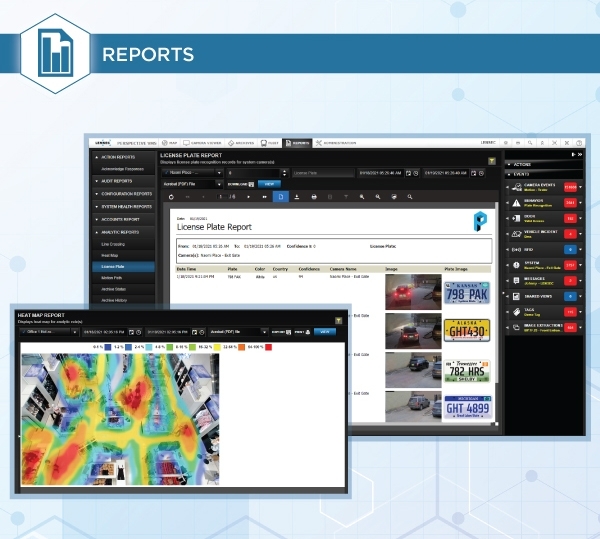 Gain insight on system health details, including camera status, user login activity, archive stores, and more.
Learn details about user activity history in the Access Log Query Report.
Display categories of behavior-based events using Video Analytic Reports.
Tag Fleet Vehicle Incidents so their easy to find later.
Discover data about actions and triggers for automated processes in Workflows.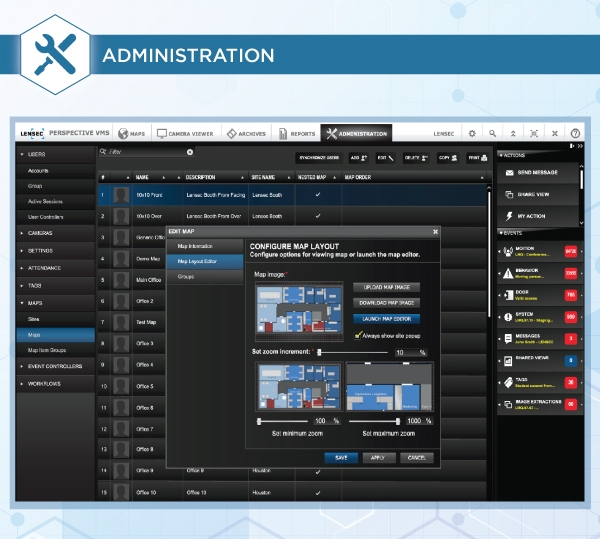 Configure and manage system-wide settings from anywhere on the network in the browser-based application.
Configure network-connected IP security devices within PVMS.
Manage users efficiently through group-assigned permissions.
Balance archives across multiple drive locations.
Securely access the system via Active Directory single sign-on.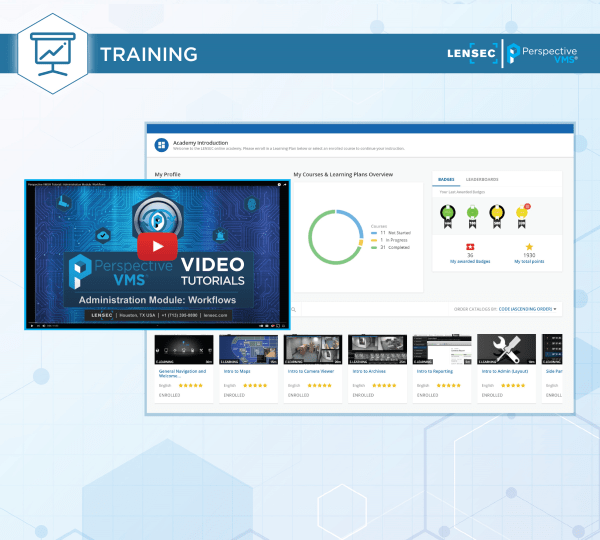 Take free training, including online classes and technical certification. Instructor-led courses are held virtually and in person.  
Learn how to use and install the software from experts.

 

Take the PVMS Online Training Academy at your own pace.

 

Access video tutorials for software operations from with the PVMS interface.

 
Perspective VMS® Product Feature Comparison
PVMS has a lot of features available in various editions. This feature comparison breaks down which features are available in each Perspective VMS® product edition.
| Perspective VMS® Features | Trial Edition | Command View Edition | Express Edition | Standard Edition | Professional Edition | Enterprise Edition |
| --- | --- | --- | --- | --- | --- | --- |
| Deployment | Stand-alone | Stand-alone | Stand-alone | Distributed | Distributed | Distributed |
| Number of Users | Unlimited | Unlimited | Unlimited | Unlimited | Unlimited | Unlimited |
| Number of Cameras | Unlimited | 100 | 24 | Unlimited | Unlimited | Unlimited |
| Number of Servers | Unlimited | 1 | 1 | 5 | Unlimited | Unlimited |
| Global Search | ✓ | ✓ | ✓ | ✓ | ✓ | ✓ |
| Single Web-based Interface | ✓ | ✓ | ✓ | ✓ | ✓ | ✓ |
| Dynamic Maps Integration | ✓ | - | ✓ | ✓ | ✓ | ✓ |
| Intelligent Archive Management | ✓ | - | ✓ | ✓ | ✓ | ✓ |
| Simultaneous Live / Archive View | ✓ | - | ✓ | ✓ | ✓ | ✓ |
| Archive Video Extraction | ✓ | - | ✓ | ✓ | ✓ | ✓ |
| System Health / Email Alerts | ✓ | - | - | ✓ | ✓ | ✓ |
| Share View User Collaboration | ✓ | - | - | ✓ | ✓ | ✓ |
| Neighboring Camera Associations | ✓ | - | - | ✓ | ✓ | ✓ |
| Archive Locking | ✓ | - | - | ✓ | ✓ | ✓ |
| System Lockdown | ✓ | - | - | ✓ | ✓ | ✓ |
| Time-lapse Extractions | ✓ | - | - | ✓ | ✓ | ✓ |
| Failover | ✓ | - | - | - | ✓ | ✓ |
| Dashboard | ✓ | - | - | - | ✓ | ✓ |
| 'If-This-Then-That' Workflow Logic | ✓ | - | - | - | ✓ | ✓ |
| Import External Video Sources | ✓ | - | - | - | ✓ | ✓ |
| Active Directory | ✓ | - | - | - | ✓ | ✓ |
| Live GIS-Mapping | ✓ | - | - | - | ✓ | ✓ |
| Fleet Security Management | ✓ | - | - | - | ✓ | ✓ |
| Interlink Multisite Remote Connection | Main/Remote site | Remote Site | Remote Site | Remote Site | Remote Site | Main/Remote site |
| Access Control Integration | ✓ | - | - | - | Add-on | Add-on |
| Video Analytics | ✓ | - | - | - | Add-on | Add-on |
| Automatic License Plate Recognition | ✓ | - | - | - | Add-on | Add-on |
| Facial Recognition | ✓ | - | - | - | Add-on | Add-on |
| Third-Party Security Devices | ✓ | - | - | - | - | Custom |
| Custom Development | - | - | - | - | - | Custom |