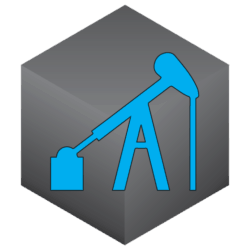 Perspective VMS® is an intuitive and scalable solution that can be leveraged for remote security deployments in areas with little to no physical infrastructure. PVMS is perfect for Oil & Gas sites, whether they are diverse locations in a rural environment or at a large industrial plant with a widespread architecture.
Keeping an eye on oil and natural gas storage and distribution systems requires security integration and cooperation among owners and operators. Perspective VMS® operates well with most security software and surveillance devices.
Perspective VMS® enables real-time collaboration among team members by allowing users to share video and metadata with other users. Remote video surveillance enables first responders and operators to monitor cameras for unusual activity. This allows personnel to take proactive measures to maintain safety while investigating incident video and data. Perspective VMS® can also play a key role in early detection and deliver real-time video to end-users.
LENSEC Solar Solution with Perspective VMS®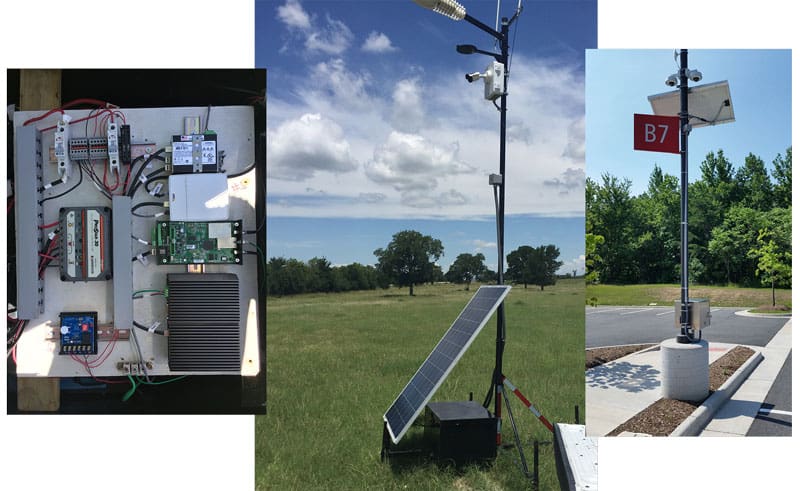 LENSEC is providing a solution for physical security projects at remote locations with little to no infrastructure. Many companies find a need for security cameras at these sites, though they have no standard network capabilities or utilities to support long-term deployment. Oil and gas well sites and parking lots are examples of areas using LENSEC's solar solution running Perspective VMS® to monitor remote sites within a unified security platform.
LENSEC solution engineers have selected ruggedized servers, solar panels and controllers, along with other rugged components that can be combined to provide a complete solution, including an option that includes 4G LTE communication to deliver video and data to the head-end location.
Users now have the ability to remotely access live video, recorded video, and receive notifications when activity is detected at the site. This means less equipment theft and vandalism, less need for staff to travel site-to-site, and quicker response time to unauthorized site access due to better monitoring and forensic investigation of events as they occur.
For more information, please review our solar solution datasheet or contact our sales team.
Oil & Gas Case Studies
Take a Look at LENSEC Case Studies Using Perspective VMS® for Oil & Gas Applications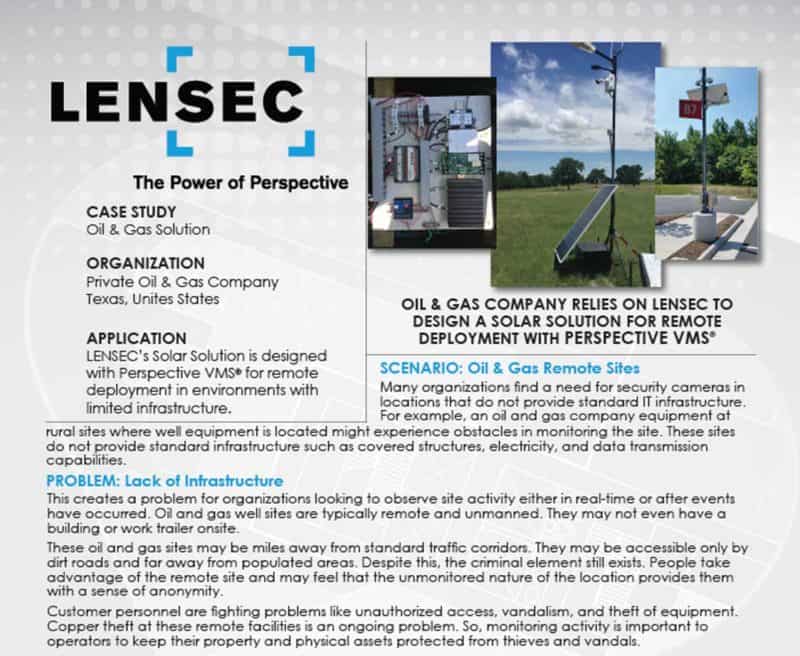 Oil & Gas Company Relies on LENSEC to Design a Solar Solution For Remote Deployment With Perspective VMS®.
SCENARIO: Oil & Gas Remote Sites
Many organizations find a need for security cameras in locations that do not provide standard IT infrastructure. For example, an oil and gas company equipment at
rural sites where well equipment is located might experience obstacles in monitoring the site. These sites do not provide standard infrastructure such as covered structures, electricity, and data transmission capabilities.
THE PROBLEMS: Rural, Extreme, Remote
There are numerous obstacles to overcome with remote deployment sites. Oil and Gas well sites are typically quite remote and unmanned. They lack infrastructure providing power, protection from environmental elements, and a network path to transmit data and video to headquarters. These are no small problems and they just scratch the surface when considering obstacles presented by the remote locations in use by oil field operators. In our complete case study, we've detailed many of these problems and considerations for remote deployment.
SOLUTIONS: Overview
A technology is now able to provide a solution with tools such as a ruggedized mini-server. These servers provide cutting-edge advancements for a remotely deployed solution. Previously, this type of solution came with an excessive cost. The size of the solution was large. And, the power draw was too much to be viable for most customers specifications.
LENSEC partners with component manufacturers that are breaking ground with compact, power-efficient servers that integrate 4G LTE capabilities. The equipment specifications are suitable for a solution that solves these problems. We have put together a Perspective VMS® product datasheet that details general specifications for the LENSEC Solar Solution with Perspective VMS®. Visit the LENSEC.com website and look for the datasheet on our downloads page.