AT A GLANCE
FEATURE: LENSEC Celebrates 20th Anniversary
SUPPORT: Managing Maps in PVMS Administration
PARTNER: SICURIT Perimeter Protection Systems
PRODUCT:  PVMS Advanced Video Analytics Available
FEATURE: Perspective VMS® Includes Comprehensive Security Protection
 The LENSEC Perspective Newsletter – October 2018
LENSEC Celebrates 20th Anniversary in Business

LENSEC is proud to be celebrating our 20th year in the physical security industry. The company was founded November 6, 1998 as Progressive Systems, a custom solutions provider of networked video surveillance. This year marks a milestone of perseverance in an ever-changing industry.
As a pioneer in browser-based video management, Progressive Systems was able to lead the physical security industry in the transition from analog-based cameras to devices communicating over an IP network architecture. In the infancy of the internet age, the company started with an idea to stream network video with the very first IP network cameras on the market.
Throughout the beginning of the 21st Century, LENSEC has worked with many different markets by installing and managing countless cameras around the world. Physical security experts at LENSEC continue to bring a collective knowledge to government entities, healthcare organizations, commercial businesses, higher education institutions, K-12 education campuses, critical infrastructure sites, the oil and gas marketplace, and others.
Now in our 20th year, LENSEC still provides ground-breaking solutions with our HTML5-based video management software, Perspective VMS®. LENSEC continues to remain relevant and forge the way for the physical security industry. The company remains in-touch with customers, seeking feedback and developing new features based on customer ideas. LENSEC leadership strives to develop solutions using customer interaction and customer productivity as the top priority.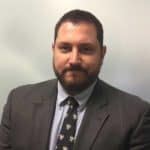 LENSEC Chief Product Officer, Jeff Kellick says, "While 20 years as a technology company is a notable accomplishment, what continues to make LENSEC outstanding is our exceptional staff. LENSEC employees continue to innovate every day just as they have done since day one. Most of our team members have been with LENSEC for more than 5 years. Many reach the 10-year mark or beyond, including our Sr. Project Managers Mike Fedor and Chris Dowell, both of whom have provided their experience and support to our customers for over 17 years. LENSEC is grateful to have a dedicated team helping customers in critical areas of physical security and video surveillance."
LENSEC continues its pioneer status, striving to provide software that is easy for customers to use. Building on LENSEC's mission to deliver innovation with web-based tools, Perspective VMS® is a smart client video surveillance software used by security teams. With our unified security platform, first responders can react and respond to security events. Perspective VMS® is designed for physical security surveillance systems that are scalable for small operations or large enterprise organizations. PVMS is intended for an unlimited number of security devices and cameras. Our products enable real-time situational awareness for customers and first responders.
With 20 years of experience under our belt as a manufacturer and history as an integration company, LENSEC has learned what works and what to avoid. Our employees carry that expertise and offer it to security integration partners. The LENSEC team learned the lessons and we're happy to share that knowledge with our partners, making their jobs easier, and making them winners with their customer-base.
LENSEC is a partner you can trust. We're excited about our 20th anniversary and putting our expertise to work in the physical security marketplace.
LENSEC 20th ANNIVERSARY GIVEAWAY CONTEST
LENSEC is excited about our 20th anniversary. As part of our celebration, we're giving away several notable prizes for partners and customers in the United States. We have 20 prizes that we will give away on several dates between October 1st and November 6th. The contest is for everyone, but LENSEC VAR Partners get an extra opportunity to participate. There are special prizes that are intended for VAR Partners only. Also, the LENSEC team is submitting one entry for each VAR partner entry on your behalf. With that said, we're also inviting everyone else to join in on the fun. Everyone can enter, but you can only win once. We have three opportunities to win.
Here's a sneak peek at our prize giveaway list:
• Perspective VMS® In-House Evaluation Server
• Travel voucher for Perspective VMS® Technical Certification Training
• BST Security Megapixel Network Security Camera
• IPVM Personal Pro Annual Membership
• LENSEC 20th Anniversary Appreciation Combo Pack
LENSEC 20th Anniversary Giveaway Contest Rules and Registration may be found on our website. Join LENSEC by celebrating with us during our 20th anniversary event. This Giveaway Contest is only eligible in the United States and its territories.
LENSEC is giving away some great prizes for our 20th anniversary.
You don't want to miss out. Register today.
LENSEC Tech
Support Solution
Managing Maps in PVMS Administration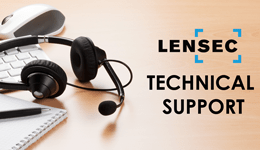 Perspective VMS® gives the installer or administrator significant capabilities when building out the map navigation for a site. The way the site plan is built can give the user a dynamic experience for navigating throughout a site using nested or layered maps. When setting up the site plan in Perspective VMS®, nesting maps together in a logical association allows users to drill down from a top map, to subsequent views, right down to separate floor plans for distinct locations within a site or facility.
Within the Administration Module, there is a tab called Maps. This tab is where creation and configuration of all sites, buildings, and maps takes place. There is a custom map editor built into PVMS. The editor is designed to build out maps and create site plans, right down to placing cameras displaying exact map locations for an enhanced user experience.
Maps
The installer or administrator may upload individual maps into Perspective VMS® using flat image files, such as a JPG or PNG image file. The maps area in the administration module is where individual uploaded maps may be found. Then the maps may be assigned to sites or buildings.
Buildings and Sites
The building area is for setting up buildings, sites, or any container that will that will have a subset of maps. These sites and building can be layered in order, so the user navigates through a set of maps from a wider view down to a floor level view. Here is an example of what that look like: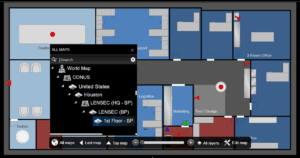 You can see the map for the LENSEC office layered from the Houston map all the way down to the 1st floor map shown.
Layered Map Nest for LENSEC HQ in Houston
The installer or administrator may pick the icon to associate with any site or map. Custom icons are allowed, but there are several icons in PVMS to choose from.
If you want more details on creating and configuring maps in Perspective VMS®, we have details outlined in 3 video tutorials. Here are links to the tutorials in a recommended order.
Administration Module: Map Administration
Administration Module: Building or Site Maps
If integrator technicians need support, call (713) 395-0800 + Option "1" or email [email protected] for assistance.
Perspective VMS®
Product Feature
PVMS Advanced Video Analytics Available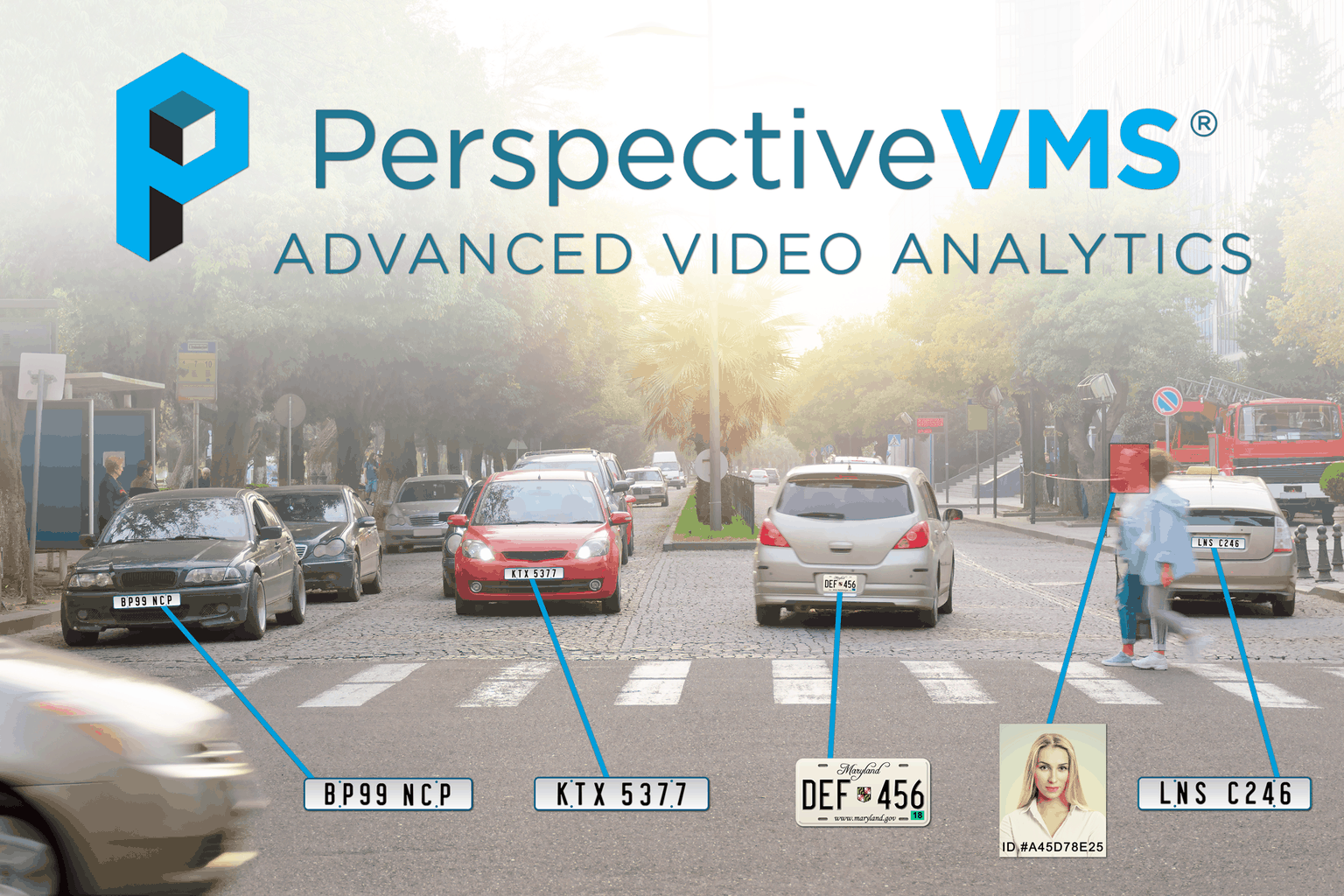 LENSEC continues to add great features to Perspective VMS®. From software integration with technology partners to features that come from customer feedback, PVMS continues to evolve into a great tool for managing any security footprint. A newer feature that PVMS makes available is video analytics. Engineers have incorporated some nice capabilities for helpful, intelligent video analytics that can be added to the software.
Automatic License Plate Recognition (ALPR)
LENSEC has chosen a few significant video analytics that stand out from the basic offering. Now, Perspective VMS® offers Automatic License Plate Recognition and Face Recognition. These two advanced video analytics are game changers in the industry. They allow tracking of key information that can cross reference a database and flag users when certain criteria are met.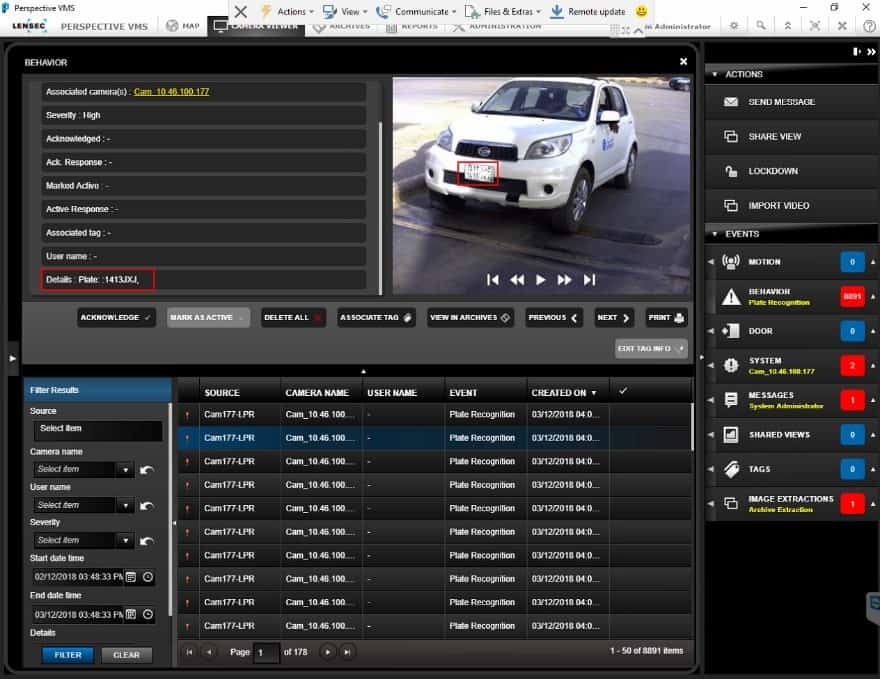 When ALPR is in use and a license plate is detected by security cameras, Perspective VMS® will tag the information and store it in the database. The information can trigger an alert for users. A report can also be generated to show relevant information, such as a picture of the plate and vehicle, and more.

Face Recognition
Face Detection and Face Recognition are also advanced video analytics that are helpful. These may sound alike, but they are different. Face Detection is a simple analytic that detects the presence of human faces within the video image generated by the security camera.

Face Recognition goes well beyond this capability. When the end-user has a database of photos, such as employees, the video analytic algorithm is designed to recognize certain characteristics of the face and compare it to the database pictures on file. It can compare the pictures and find matches in the database. This, of course, takes the analytic capability to the next level.
Now, Perspective VMS® can notify users when a potentially unauthorized person is detected. This is helpful for deployment in secure areas where certain personnel might be restricted. In addition, this feature also includes a report that can be generated, showing matches of known individuals in the database. Video can also be tagged for future forensic review.
Perspective VMS® offers these advanced video analytics along with a wide range of capabilities available as add-ons for Enterprise or Professional Edition software. These analytics can be purchased individually or as a bundle and are sold per device. If you are interested in learning more, please contact our physical security experts for more details. You can reach our team at [email protected] or by phone at (713) 395-0800.
LENSEC Partner Focus
SICURIT Perimeter Protection Systems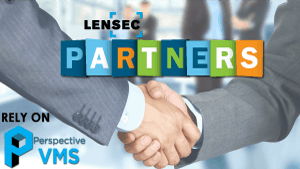 LENSEC is pleased to announce SICURIT Perimeter Protection Systems, a dedicated division of SICURIT Alarmitalia Spa, is now a technology partner. SICURIT has been producing and distributing advanced Perimeter Intrusion Detection Systems (PIDS) systems since 1971. The Company is a recognized Italian leader and since 2000 has been exporting its solutions to what has now grown to more than 40 countries.
SICURIT has recently brought to the security marketplace unique IP-Native solutions that include long range IR Beam and Dual Technology barriers for either ground and wall mounting applications featuring multiple communication interfaces for seamless integration into Perspective VMS® and other security management platforms.
SICURIT proven applications include solutions in the following vertical markets: Transportation, Energy, Oil & Gas, Government, Defense, and Industry.

At SICURIT new product development is ongoing and proactive. The company's central objective is to provide the security industry with the latest technologies that guarantee unparalleled performance and seamless integration into existing or new security applications. SICURIT's  mission is to become the world leader in the design, production and distribution of professional equipment for outdoor perimeter protection. To achieve this, we are dedicated to building superior relationships with employees, customers and suppliers, based on shared long term goals.

The company offers a wide range of perimeter protection products, including Dual Technology Barriers, IR Beam Barriers, Microwave Barriers, Fence-mounted Sensors, Wall-mounted Sensors, and PIR Detectors.
If you want to learn how these products work with Perspective VMS®, contact our physical security experts today.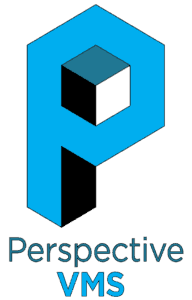 LENSEC Includes Comprehensive Security Protection in Perspective VMS®

LENSEC engineers have outlined several key protection mechanisms that are purpose-built with our enterprise-level video management software. Perspective VMS® comes with several security enhancements included to help protect the system and the data contained within.
LENSEC's Chief Product Officer, Jeff Kellick, says PVMS stands out from the competitor's thick-client software because it is 100% browser-based.
Kellick says, "We take advantage of the indispensable web browser. The browser is a software application that is already installed on client workstations, and therefore already vetted by IT professionals. We support up-to-date production releases of the major browsers (Chrome, Firefox, Edge or Internet Explorer). Therefore, we are in line with utilizing an application which the IT department approves without the need for installing any proprietary, 3rd-party application that would require further acceptance tests. With HTML5, Perspective VMS® doesn't need a plugin, which eliminates past generations' browser vulnerabilities. Browsers developed today by Google, Microsoft, and others have established continuous integration and testing to meet evolving threat mitigation standards. Leveraging this platform enables our client software to maintain leading-edge best practices for overall application security."
Configuration Encryption
Out of the box, Perspective VMS® uses RSA encryption to code its configuration files. These files provide initial parameters and settings to the Perspective VMS® services. The files also contain some sensitive data such as usernames, passwords, and database connection information that services need to function. RSA encryption uses a public encryption key and a private decryption key to help ensure that data stays private.
Protecting Web Traffic
Secure Socket Layers (SSL) can be enabled with Perspective VMS® to help protect the web traffic passing between the browser and the PVMS Web Server. Enabling SSL also secures traffic between the web server and other distributed servers within the network. SSL uses trusted certificates and, through a series of negotiation phases, creates a secure encrypted connection.
The data contained within this secured connection is only visible to the hosts involved in the negotiating phases. This helps prevent Man in the Middle (MITM) attacks; an attack in which a third party interjects themselves between two hosts for the purposes of eavesdropping or impersonating one of the hosts.
Protecting Streaming Traffic
When using SSL, Perspective VMS® uses the Web Sockets Secure (WSS) protocol to help protect streaming traffic. WebSockets opens a real-time connection between devices communicating with each other. WSS is the communication protocol that is encapsulated within an SSL/TLS connection. WSS opens secure connections to the streaming services. This direct connection helps reduce the streaming data delivery time to the browser. WSS also helps further reduce the risk of MITM attacks as it creates a direct connection that is encapsulated within an encrypted connection.
On Camera SSL
Typically, the connection from the camera to a streaming server remains unsecured, even in setups that use SSL on the web server. This presents the possibility for eavesdropping from devices within the local network. To fully protect a camera's stream, some camera manufacturers have configurations to allow their cameras to stream over an SSL/TLS connection directly from the camera. When configured, only the camera and server have access to the encrypted data within the SSL/TLS connection.
Planning Networks and Leveraging PVMS Security
There are various levels of surveillance network setup recommended by LENSEC's PVMS product experts for security. On the LENSEC website, we describe typical setups that security integrators may use to build a network architecture. The differences described will vary, depending on the level of security needed by the end-user's enterprise.
Network security is added using SSL and WSS between the Perspective VMS® servers and the client workstations. Additionally, the edge devices may be setup on a subnet, communicating via the streaming service as a proxy.
Overall, the advanced methods recommended will add an extra layer of protection from hackers and harden the network architecture to prevent outside attacks.
If you are interested in learning more about surveillance network security measures regarding Perspective VMS®, please visit LENSEC.com/PVMS.

LENSEC Announces a 4th Quarter Bonus for LENSEC Partner Sales Reps
LENSEC wants to buy your lunch. We're announcing a bonus program for our VAR Partner Sales Reps. We'd like to help you demonstrate Perspective VMS® to your customers. If you set a demo with a prospective end-user or security consultant, we'll give you a $25 AmEx Gift Card.
You have the relationships with end-users and security consultants. If you schedule a meeting for our sales team to demonstrate Perspective VMS®, we'll pay you. The meeting may be onsite with our sales manager in person, or we can schedule a remote web demo.
It's as simple as that. You get the meeting, and we'll handle the demo and pay out the bonus. We do have a few guidelines that are quite simple.
• LENSEC STAFF MEMBER MUST PARTICIPATE IN THE DEMO
• THERE IS NO CAP ON THE NUMBER OF DEMOS
• LENSEC WILL COUNT THE DEMOS AT THE END OF THE MONTH
• CARDS WILL BE MAILED AFTER THE MONTHLY TALLY
• THIS IS A DISCRETIONARY BONUS PROVIDED BY LENSEC
• THIS PROMOTION IS DESIGNATED FOR Q4 2018
• LENSEC STAFF AND MANUFACTURER REPS ARE NOT ELIGIBLE
• THIS BONUS PROGRAM IS ONLY AVAILABLE IN UNITED STATES AND ITS TERRITORIES
Contact the LENSEC Sales Team to get your demo set up today. 
Phone: (713) 395-0800 | Email: [email protected]