FOR IMMEDIATE RELEASE – Houston, Texas, USA – Wednesday, July 12, 2021
School safety and security is the overriding concern of school administrators, teachers, and parents. Every school has its own set of unique challenges, and whether a Pre-K, K-12, or university campus it is important to find a video surveillance system that fits your needs. The right solution can make your school district or campus smarter, safer, and more connected. Plus, today grant money is available from the CARES Act (Mar 2020), the Covid Relief Package (Dec 2020), most recently the American Rescue Plan (Mar 2021) for school districts to help safely reopen and to improve school security with the latest surveillance technology.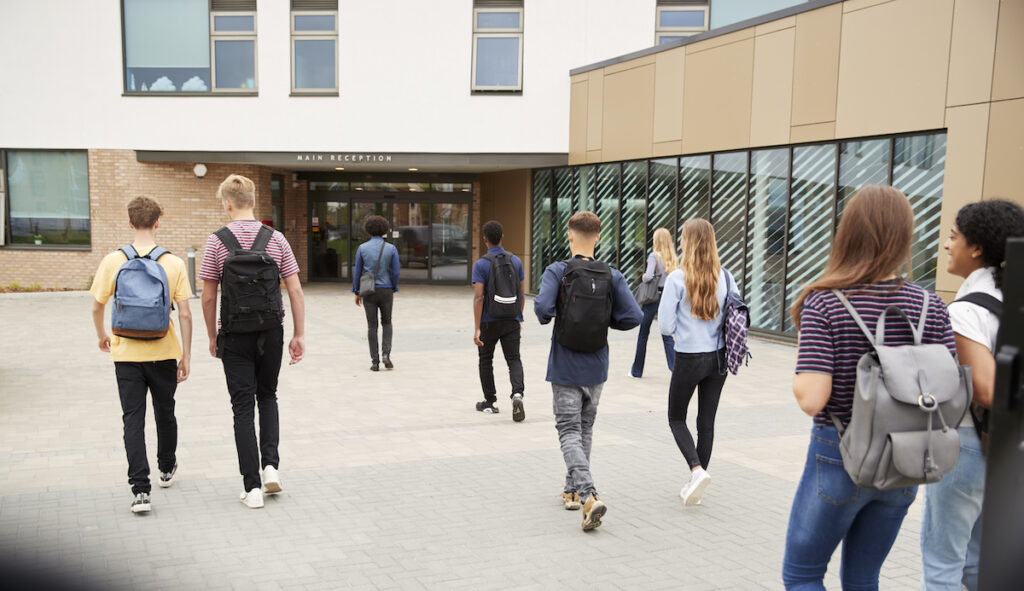 With funds available, K-12 school campuses continue to leverage IP video surveillance to improve campus security as technology continues to provide new tools for the job. But what about existing IP or even analog security cameras? How do newer, more robust security cameras fit into a system that still has perfectly good legacy cameras but from different manufacturers? A school with disparate security cameras can never truly achieve a unified and centralized security system. A school would need a room of people monitoring the video from each camera or reviewing hours of footage to find a meaningful event. This type of surveillance is costly, time consuming, and just not practical.
Over the past two decades, the ability to pack more processing power into smaller spaces has made video analytics more affordable and powerful. Most security and surveillance equipment manufacturers offer IP cameras with built-in intelligence, or intelligence-at-the-edge, that allow a single camera to capture video, process the data, and send an alert if it detects a pre-programmed event. These video analytic solutions, while powerful, are purpose-built, proprietary, and offer limited pre-set options for intelligence, and provide little room for customization. Plus, many off-the-shelf cameras give you exactly that, generic off-the-shelf analytics. But this one-size-fits-all approach does not deliver the tailored solution for your unique requirements.
As the awareness and demand for school safety increases, so does the need for a unified security platform. Integrated systems allow for video surveillance, video analytics, and physical security access control or intrusion detection events to be accessed quickly. Integrated systems also alert staff of suspicious activity, facilitating informed decision-making during a crisis. A unified system offers improved situational awareness for all the facilities throughout a school district from a single central control station. With more detailed information available at their fingertips, security officers are better able to do their jobs and more effectively serve the community.
Incorporating analytics in a unified solution increases the intelligence provided by the integrated equipment, dramatically reducing false alarm events. Often schools report a high volume of false alarms to emergency responders because operators simply did not have eyes on site. By adding analytics capabilities to a school's video surveillance system, the system displays a clear image from the specific camera that's capturing the movement causing the alarm, allowing security operators in the central station to see the incident, make an informed judgement, and take an appropriate action.
When it comes to campus safety, video surveillance is an invaluable piece of your overall security strategy. Whether you want to proactively prevent security issues, crackdown on bullying, or simplify your district-wide security infrastructure, the right video surveillance solution will help you create a safer, more connected campus. By unifying your school's security footprint, you may bring multiple, diverse security systems under the umbrella of one security management platform.
At LENSEC, our goal is to keep people safe and assets secure. That goal has never been more pertinent than now. Our team of physical security experts stands with you, ready to assist and provide the technology solutions to help you navigate through these uncertain times. Perspective VMS® by LENSEC is a video management software designed for securing one site or multiple locations, streaming security video from an unlimited number of cameras in your enterprise. Our team has integrated with many third-party security applications, such as access control, intrusion detection, video analytics, and more. LENSEC is an advocate of the Partner Alliance for Safer Schools (PASS), a non-profit organization with K-12 school safety and security guidelines, best practices, and a checklist for education administrators looking to enhance security in schools. PASS offers comprehensive information vetted extensively by experts across the education, public safety, and security industry sectors.
Want to learn more about our Perspective VMS®? Check out our website here.