Perspective VMS® Users Can Now Leverage Integration with DNA Fusion™ Software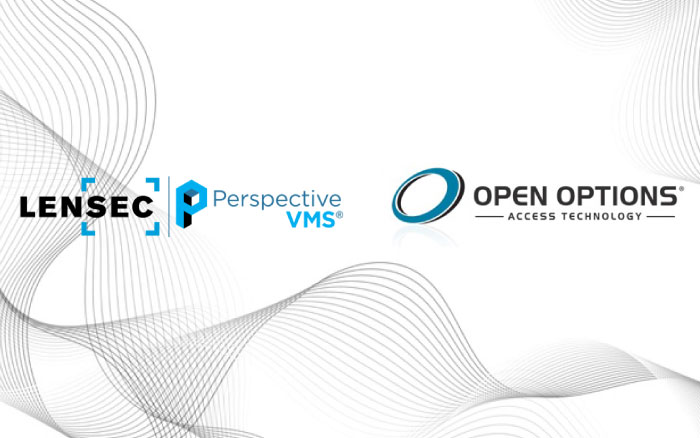 LENSEC, Houston, Texas– August 18, 2021. LENSEC, a pioneer in video management software, announced a partnership with Open Options to provide flexibility and greater efficiency when combining Perspective VMS® and DNA Fusion™ access control software.
The integration between PVMS software by LENSEC and DNA Fusion access control from Open Options enables users to control doors by issuing access control commands to locks and devices. From the Video Management Software, users can manage access points from the map module or the camera viewer module, or by incorporating automated logic workflows from Perspective VMS. PVMS pulls event information from DNA Fusion and can import Open Options devices from the access control configuration database.
With the integration, access control events are searchable in Perspective VMS. Events may be associated with security video and tagged as they occur. Events are also found in PVMS transaction history reports, allowing system administrators to filter and search for activity, such as cardholder access, invalid entries, doors forced open, and more. The associated video improves the record with visual verification. Video of the access control event can be extracted, shared internally, and downloaded as watermarked evidence for law enforcement or third parties.
"We are excited about our partnership with Open Options," said Michael Trask, Director of Sales, North America of LENSEC. "Close integrations with third-party systems are how LENSEC achieves beneficial results for joint customers. With this integration, end users now have a way for security operators to make quick and solid decisions and to mitigate risk better and faster than before."
"Today's modern enterprises require integrated solutions to make the most of their technology investments, said Chuck O'Leary, Senior Vice President, Americas, ACRE Access Control.
LENSEC software engineers will continue to develop additional integrations with technology partners and to make PVMS an outstanding choice for security deployments. Close integration with third-party systems is how LENSEC achieves
beneficial results for joint customers.
For more information, visit http://www.lensec.com.
ABOUT LENSEC: LENSEC has a history since 1998 as a pioneer in video management software. Perspective VMS, the company's flagship enterprise software, is an advanced video surveillance platform providing effective, remote situational awareness and security management of facilities. Customers with IP cameras rely on PVMS to manage and stream video from thousands of IP cameras at geographically diverse sites. LENSEC's physical security experts are well-versed in complex security projects, including commercial properties, government sites, educational facilities, critical infrastructure, and much more. LENSEC employees offer their expertise, meeting the company's goal to keep people and property safe. LENSEC distributes PVMS through a channel of security integrators.
ABOUT OPEN OPTIONS:
Since its founding in 1997, Open Options has been a pioneer in the open platform community, focused on helping customers improve security by building trust through the most connected experience. Today, the company continues to be a leading provider of innovative access control solutions with the most experienced, highly qualified service and support teams in the industry, providing access that connects. Open Options' flagship access control platform, DNA Fusion, seamlessly connects with leading security technologies — including video, biometrics, wireless locks, and more — to provide customers with a best-in-class security solution. Our customer-first, open business culture and dedication to customer care through the Connect Care experience are what set us apart; when you do business with Open Options, you're doing business with real people who care about your experience. To learn more about Open Options and our solutions, visit www.ooaccess.com.